Volume 133, Issue 1, 2020
Tijdschrift voor Geschiedenis

- Volume 133, Issue 1, 2020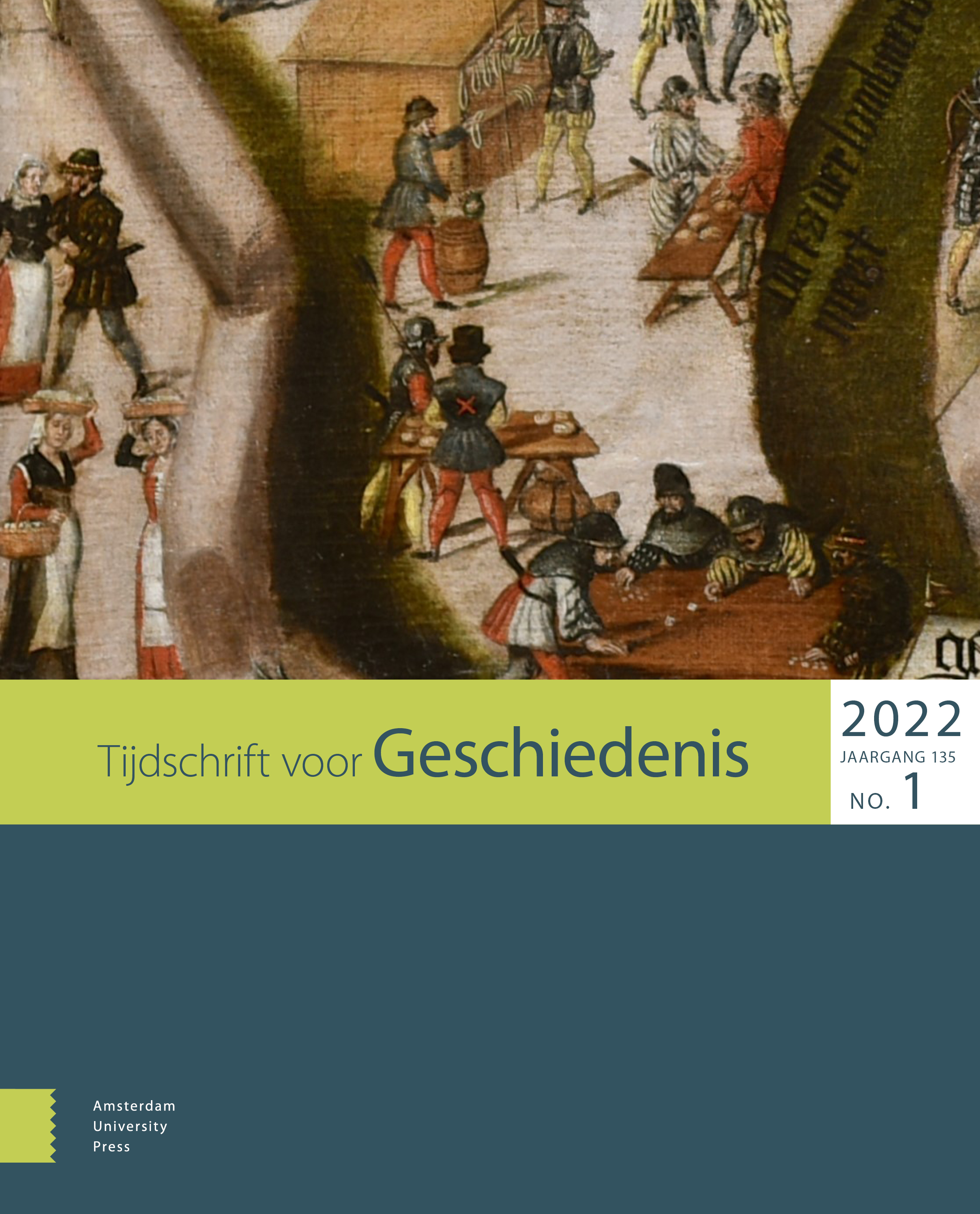 Volume 133, Issue 1, 2020
Language: English
More

Less

Abstract

Why the Netherlands did not witness a revolution in 1848

In 1848, a wave of democratic revolutions struck most of Europe, but not the Netherlands. Historians have provided only partial explanations from a range of perspectives, such as socio-economic, socio-political, and institutional. We argue that none of these are fully tenable or satisfactory by comparing the Dutch situation with countries that did experience revolutions in 1848. Also, we add a cultural perspective by studying the role of the Dutch consensus culture. After tracing its roots, we identify its key characteristics and use these as a prism to interpret several governmental sources, brochures, and newspaper articles. On this basis, we argue that it is likely that the consensus culture strongly contributed to the stability of Dutch society during the European revolutionary months of 1848. Without wanting to present this perspective as the definitive explanation, we claim that (political) culture as such deserves more attention in studies to the Netherlands during 1848.
More

Less

Abstract

Uncivilized and dangerous. Euro-Orientalism in the Belgian image of Russia between 1848 and 1861

Tracing the history of Euro-Orientalism remains somewhat problematic. Not in the least because Larry Wolff's Inventing Eastern Europe from 1994, the supposed basic book on the subject, remains widely criticized because of its chronology and interpretations. In addition, research has been dominated by the perspective of the European Great Powers and the eighteenth century. This article attempts to break with this tendency by analyzing the Belgian image of Russia between 1848 and 1861. The main goal is to ascertain how Euro-Orientalism was present in the Belgian Russia-image between 1848 and 1861. Drawing on a vast number of sources including travelogues, newspapers and parliamentary proceedings, it is argued that the Belgian Russia-image did indeed show clear signs of Euro-Orientalism. Russia was portrayed as being temporally, spatially and geopolitically different from the European and Belgian 'Self'.
More

Less

Abstract

A Finnish socialist female parliamentarian stopped on the Dutch border: the (de)politicization of Finnish women's suffrage in Dutch battles on votes for women

This research article in transnational history analyses an incident during which Hilja Pärssinen, a Finnish socialist woman MP, was stopped on the Dutch border in September 1913 on her way to visit a suffragette college in London. This two-hour event at the border and public controversy that followed were clashes between competing ideological and gendered discourses on women's political agency. The incident was a nexus of intersecting discourses on a range of issues: Dutch and international debates on women's suffrage, discourse on 'white slavery', racial prejudices towards East Europeans, Marxist class struggle discourse, and fears of socialism. During the incident, the authorities seemed to be casting the identity of an illegal immigrant or a Russian prostitute on Pärssinen. Provoked against her psycho-physical experiences, she protested by performing that identity. Afterwards, transnationally connected socialists politicized the case in their fight for women's political rights, while the authorities and the non-socialist press consistently depoliticized it.
More

Less

Abstract

On footnotes

Footnotes are a crucial part of the historian's craft. Yet, they are often construed as no more than tools, used by historians, and scientists, to refer to sources and relevant literature. By looking at several student handbooks on history writing and recent studies on annotation practices, we argue in this discussion article that footnotes are more than simple references to other people's work and that historians would do well to reflect on this. Footnotes can help historians construct historiographical and scientific discussions, and are therefore inextricably linked to politics of representation, inclusion and exclusion. Footnotes, we argue, fulfill a social and political function as knowledge brokers. With the rise of citation indexes problems of self-citation and gender misattribution have recently received more attention. Research into the uses and misuses of footnotes can shine a light on citation practices that reflect inequalities within academia. Therefore, it is worth considering more closely what happens in the literal margins of history writing.
More

Less

Abstract

World history of the Netherlands and Flanders: about the (im)possibility of an open, global, and non-nationalist history for a wider audience

Following the success of the Histoire mondiale de la France, 2018 saw the publication of the World history of the Netherlands and World history of Flanders. After the French example both volumes have three goals: to bring history to a wider audience; to give a global reading to the national past; and to offer a non-nationalist and non-teleological perspective. Eminently readable, both books succeed in their first goal. The second ambition is fulfilled by the World history of the Netherlands, but in the World history of Flanders the global dimension is underdeveloped. The verdict on their third aim is double-edged. Both volumes explicitly claim to be open-ended and reject traditional nationalist tropes, but several Dutch and – to a lesser extent – Flemish chapters have a subtext of banal nationalism. The genre of public history seems to be particularly susceptible to this type of teleology.