Article
oa Boekbesprekingen - Marcin Lewinski (2010). Internet political discussion forums as an argumentative activity type. A pragma-dialectical analysis of online forms of strategic manoeuvring in reacting critically. Dissertatie Universiteit van Amsterdam. Amsterdam: SicSat. Promotor: Prof. dr. F.H. van Eemeren; copromotor: dr. B.J. Garssen.; Frans H. van Eemeren, Bart Garssen en Bert Meuffels (2009). Fallacies and judgments of reasonableness: Empirical research concerning the pragma-dialectical discussion rules. Dordrecht: Springer. ISBN: 9789048126132 (hardcover). Prijs: € 99,95 (220 pp).; Bart Defrancq en Greet Van Laecke (2009). Leesbaar schrijven. Antwerpen/Apeldoorn: Garant. [inclusief cd-rom] ISBN: 978-90-441-2340-1.

By
Source: Tijdschrift voor Taalbeheersing, Volume 33, Issue 2, Jul 2011, p. 187 - 198
Preview this article: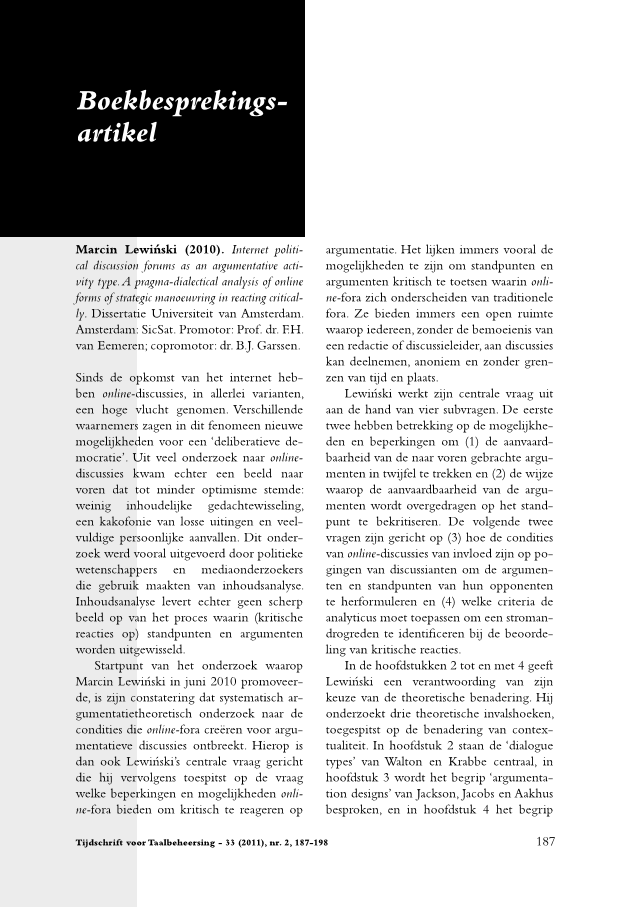 Boekbesprekingen - Marcin Lewinski (2010). Internet political discussion forums as an argumentative activity type. A pragma-dialectical analysis of online forms of strategic manoeuvring in reacting critically. Dissertatie Universiteit van Amsterdam. Amsterdam: SicSat. Promotor: Prof. dr. F.H. van Eemeren; copromotor: dr. B.J. Garssen.; Frans H. van Eemeren, Bart Garssen en Bert Meuffels (2009). Fallacies and judgments of reasonableness: Empirical research concerning the pragma-dialectical discussion rules. Dordrecht: Springer. ISBN: 9789048126132 (hardcover). Prijs: € 99,95 (220 pp).; Bart Defrancq en Greet Van Laecke (2009). Leesbaar schrijven. Antwerpen/Apeldoorn: Garant. [inclusief cd-rom] ISBN: 978-90-441-2340-1., Page 1 of 1
< Previous page
Next page >
/docserver/preview/fulltext/15739775/33/2/s4-1.gif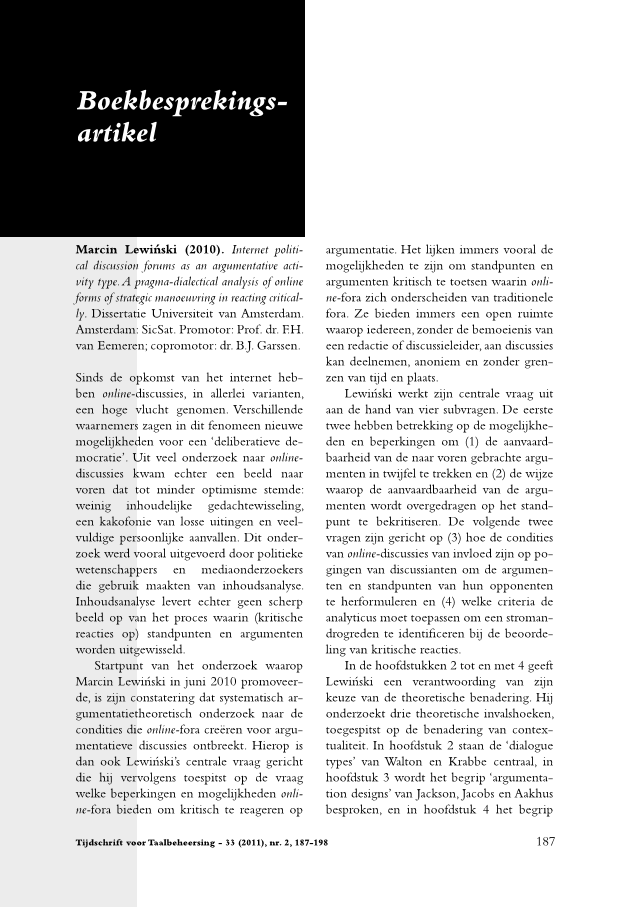 There is no abstract available.
© 2011 Amsterdam University Press