Volume 3, Issue 3, 2022
Journal of European Landscapes

- Volume 3, Issue 3, 2022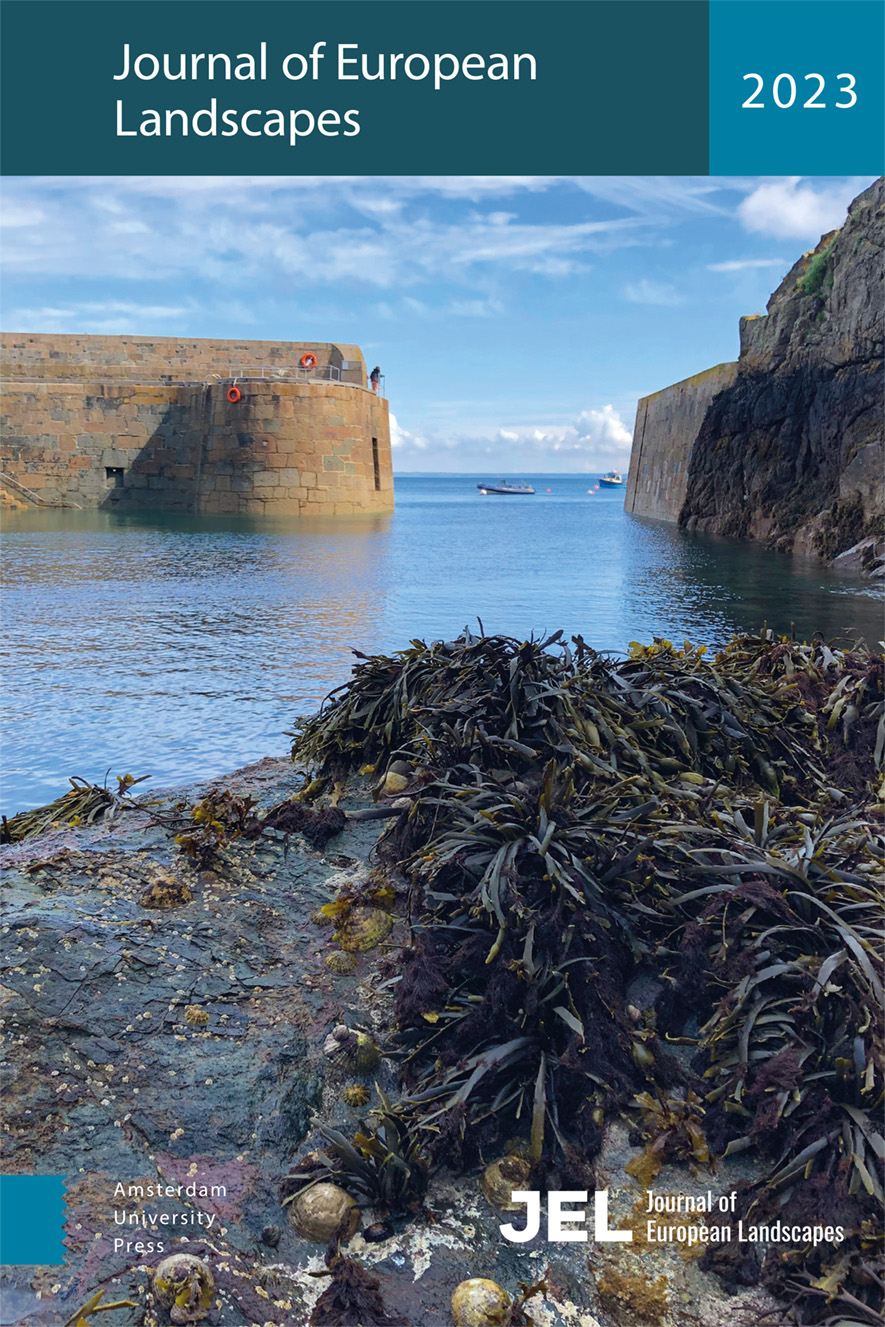 More

Less

Abstract

The LEADER Transnational Cooperation Project "Cisterscapes – Cistercian landscapes connecting Europe" takes places from 2019–2022. The article gives an overview of the project, the project partners, aims and results and where to follow them.
More

Less

Abstract

The Faro Convention1 underlined the importance of educational initiatives related to heritage. This paper focuses on the educational dimension of landscape, as a means to better facilitate its social acceptance and hence its inclusion in planning and management processes. The relation between landscape education and social perception, through a few European examples will be analysed to ascertain whether the principles of the Convention are being complied with effectively.

The authors introduce four case studies of heritage-related education carried out in three European countries (Spain, Norway and Italy). These case studies provide the possibility to coherently analyse a wide range of activities and initiatives occurring at various scales and levels: geographic, local and sectoral. In addition, they describe the pedagogical potential of cultural landscapes and cultural heritage, and highlight some of the educational strategies and measures currently used in this field.
More

Less

Abstract 

Corridor Talk: Conservation Humanities and the Future of Europe's National Parks is a DFG-AHRC funded project at the Rachel Carson Center for Environment and Society at LMU Munich (Germany), and the University of Leeds (UK). The project focuses on three European transboundary national park areas: the Pyrenees, the Bavarian Forest and Šumava, and the Wadden Sea Biosphere Reserve. It uses comparative literature, visual ethnography and environmental history methodologies to connect insights into human culture, values, history, and behaviour that are central to humanities and social sciences research to nature conservation science and practice. It aims to foster a conservation that is more culturally aware, more aware of human behaviour and values, and more aware of the ethical complexities of its work by applying the "corridor talk" metaphor in three ways: to address and support the material ecological corridors that link protected sites; to address and support the symbolic corridors that connect governance and cultural perspectives on protected sites; and to bring humanities research into discussions on nature conservation.
More

Less

Abstract

Historic harbours, as infrastructural elements, are neither buildings nor monuments thus typically fall between the remits of heritage designation. Yet they are critical to reading the human occupation of islands historically. Inevitably these routes and points of embarkation and disembarkation were pathways not just for goods, but also for knowledge, beliefs, and broader cultural understanding. The rising sea levels and increased storm activity generated by climate change are endangering the survival of this important coastal heritage on both sides of the Irish Sea.

Harbourview, a research alliance between Cardiff University (Wales) and University College Dublin (Ireland) funded by the ESRC and the IRC, is a networking project which aimed to establish new dialogues on the significance of these harbours and the means by which they can be documented and appropriately managed. Through a series of seminars, community workshops and a final symposium, researchers, relevant stakeholders in local and national governments, and local communities in Ireland and Wales participated in activities and discussions on how best to address this compelling coastal heritage. The Harbourview project established the potential of community documentation using newly accessible methods of 3D recording and visualization, and, in tandem with the seminar and final symposium, clarified the critical issues in achieving a comprehensive documentation of this invaluable heritage.
More

Less

Abstract

In times of globalisation and increased connectivity the construction of sense of place is subject to change. In this article the impact of increased connectivity on the development of sense of place is researched through literature studies and field research. The field research covered 18 towns and cities in Europe, all situated along the Rhine, Main and Danube. The largest spatial scale that is addressed in this article is Europe. During this field research, we constructed a systematic and methodological framework to read sense of place. The basis of this framework consists of the four stimuli of aesthetics, people, activity and connectivity. These four stimuli together form the basis of what we call a daily trajectory. This article focuses on connectivity because we believe that this stimulus is determined for the quality of the daily trajectory and consequently, sense of place. When stretched over time, improved connectivity ensures the expansion of scale of what people call their place. As the world is becoming more interconnected through transport and media networks, the way in which we establish connections is important to safeguard a sense of place. In this article we show the importance of the four stimuli is their interconnection in a daily trajectory, and their intrinsic link with daily lives. We argue that contemporary understanding of the concept of sense of place should assimilate our ever more globally connected world while valuing the more persistent attributes of each place.
More

Less

Abstract

Routes and networks with a heritage theme can be seen as alternative ways of approaching heritage, as they situate heritage sites in larger geographical and cultural contexts. The development of routes and networks can benefit places and stakeholders by attracting tourists, but in practice most routes and networks do not use their potential to become an experience-based form of tourism. In this article, seven Cultural Routes of the Council of Europe are researched to see how they connect places, present European narratives and provide tourism experiences. Critical Discourse Analysis is used to examine the use of tourism in Cultural Routes. Most Cultural Routes are networks of sites that share a theme, without being physically connected. These networks, often led by governments and heritage experts, aim at creating a pan-European identity by showing the connections between historic narratives over Europe. In this way, local narratives are placed in a European perspective to teach Europeans about their common heritage. However, despite the aim of the Cultural Routes to let visitors experience common European heritage, practical information for tourists is often missing in information sources of the Cultural Routes. In addition, it is impossible to let people experience a complete European network, so the word route can be misleading. This raises the question whether creating tourism itineraries is really one of the main goals of the Cultural Routes, or if it is more about bringing stakeholders together in a European network.
More

Less

Abstract

Humans and human communities influence—and are influenced by—the landscapes or ecosystems of which they are a part. The contemporary landscape which much of the world's population inhabits is a complex matrix of interrelated human and natural systems. The European Landscape Convention's comprehensive definition recognizes the importance of landscape but is deficient in classification frameworks and cohesive approaches to planning, particularly sustainable development. This paper provides a critical literature review for the term 'landscape'; it's evolving and iterative procedure synthesizes interdisciplinary perspectives of literature's varied theories, paradigms, frameworks and concepts. Results indicate the disciplines of Social Science and Environmental Science transcend the literature and current paradigms for the concept of 'landscape' still lack interrelated perspective and are generally poorly understood among disciplines. This literature review concludes that sustainable development within the European landscape requires an integrated spatial approach for applying the concept of 'landscape'. The context of the human-nature relationship within a socio-ecological production landscape (SEPL) allows the interactions of its interdependent components to be viewed comprehensively. This critical analysis grounds perspectives of landscape and assist students, practitioners, and researchers to interpret concepts of the term 'landscape' within multiple frameworks. This paper fills interdisciplinary gaps and provides the structural, spatial, and contextual considerations for further integrated research, theory, and planning in thinking about sustainable development within Europe's rapidly changing landscapes.