Volume 20, Issue 4, 2017
Tijdschrift voor Genderstudies

- Volume 20, Issue 4, 2017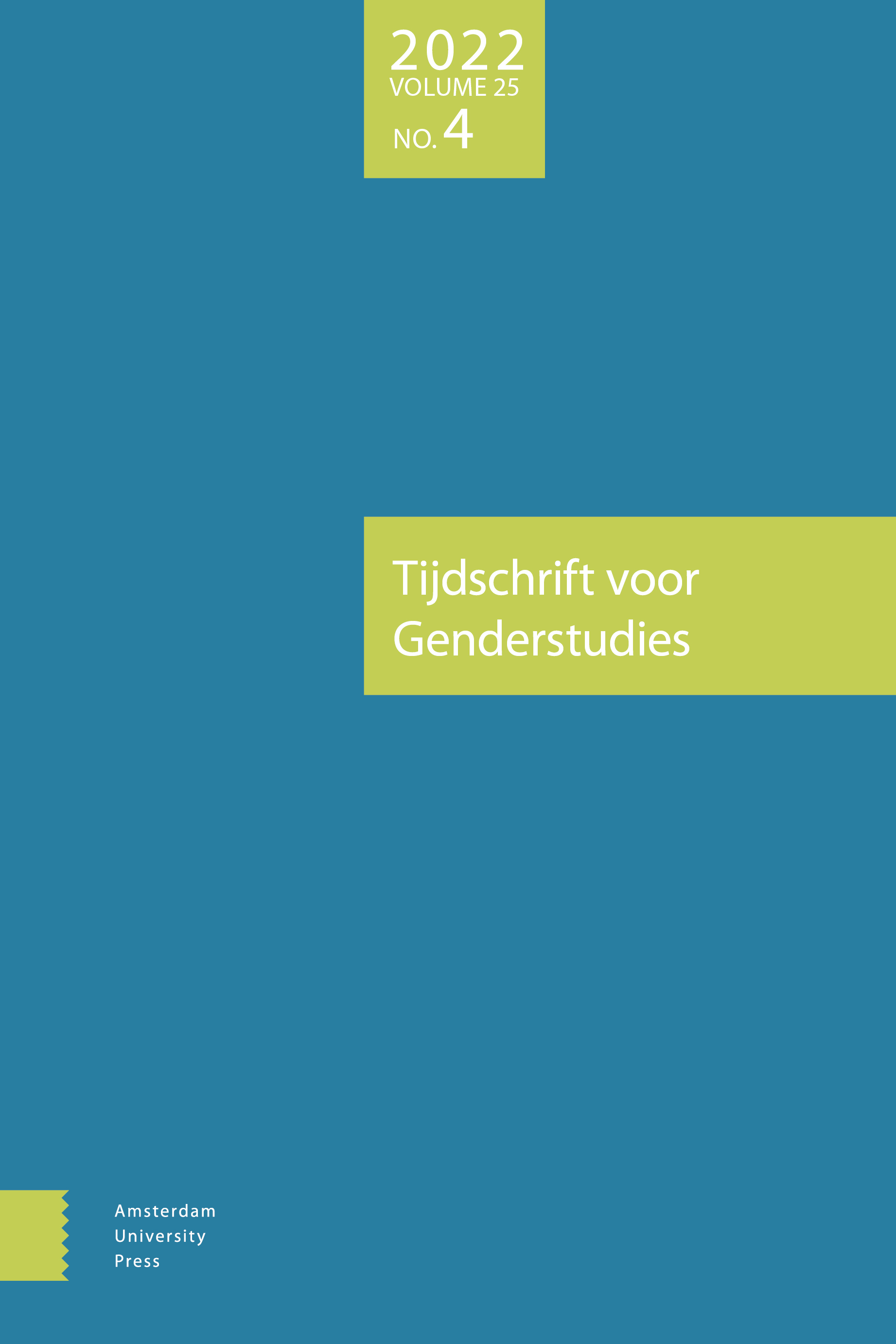 Language: English
More

Less

Abstract

This article aims to explore the potential of transgender studies to offer new trans* and interdisciplinary perspectives that simultaneously question dominant power structures and engage with multiple and unexpected becomings. We believe that the disruptive force of trans-disciplinarity lies in its capacity to open up space for marginalised populations and knowledges by creating a co-emergence of theories and methodologies that, rather than gathering different disciplines around the same topic, becomes, in Roland Barthes's words, 'a new object that belongs to no one'. The article attempts to re-imagine interdisciplinarity as a decolonial trans- practice that questions broader processes of exclusion occurring in academia. Such envisioning will unfold around the concept of intersectionality, which we consider necessary to challenge and transform the exclusions reproduced through disciplinary knowledge production. In this respect, we maintain that interdisciplinarity must be constituted so as to trans-cend and queer not only disciplinary boundaries, but also the processes of normalisation that create them. We combine this theorisation with the Mayan principle of In Lak' ech, which unveils the interdependence of animate and inanimate beings on Earth and thereby has the potential to disrupt not only the notion of 'proper object' that belongs to specific disciplines but also the 'proper subject', namely disciplinary hierarchies per se. The principle of In Lak' Ech allows us to envision trans-disciplinary becoming as a practice of intersectional resistance that opens space for radical, trans-, queer, and decolonial social critiques.
More

Less

Abstract

Within Africa's long history of migration, this article focuses on the specific context of South Africa's recent influx of people fleeing persecution, violence, and discrimination on the grounds of their gender identity/expression. This paper conceptualises people who can make claims to the refugee status, fleeing their countries of origin based on the persecution of their gender identity as 'gender refugees'. I argue that gender refugees are different from sexual refugees in that their pre-dominant forced migration issue pertains to their gender identity, which is perceived as incongruent to their birth-assigned sex. Drawing on life story interviews carried out by the author between 2013 and 2015 with gender refugees living in South Africa, along with analysis of media and archival materials, this paper explores how, when, and under what circumstances transgender-identified individuals from countries in Africa are forced to journey, and come to seek refuge in South Africa specifically. Utilising the notions of 'shifting' and 'discomfort' as analytics in relation to narratives provided, I suggest that South Africa functions as a pan-African national imaginary, even for migrants, which represents a particular understanding of freedom due to widespread knowledge of its unique Constitutional precepts. In conclusion, I emphasise how the State in gender refugees' countries of origin, which sanctions the possibility of death for transgender people as exemplary subjects, plays an especially transformative role in the decision to flee.
More

Less

Abstract

In the Netherlands, transgender people are increasingly becoming the focus of media attention, both in written media and on television. The question we raise in this article is whether the sudden popularity of trans people in the Dutch media can be seen as a moment of interruption and destabilising through which the contours of new paths of gender identification become imaginable, or whether, upon closer scrutiny, the media coverage of trans lives merely or mostly reinforces dominant, binary gender ideologies. We use the concept of 'transgender scripts' to explore the particularities of the representation of trans people in three national newspapers as well as two television programmes in the time frame 1991-2016. Trends in media reporting show that, in recent years, it has become more common to speak of transgender persons in affirmative ways. This affirmation, however, seems to come more easily when trans narratives confirm norms of gender, whiteness, youth, and national identity. We, therefore, argue for the inclusion of (sub-cultural) trans perspectives that show the variety in gender identity, including also non-binary identities, as well as cultural background and social and bodily experiences.
More

Less

Abstract

This article understands the work of Jean Genet, in particular his first novel, Our Lady of the Flowers (1943), as a site of reappraisal in the context of contemporary transgender studies scholarship. Moving away from Genet's articulation as a figurehead of gay literature, it understands the trans elements of his work as smuggled through his canonical placement, but also as instances of smuggling in their own right. Irit Rogoff names smuggling as a mode of 'embodied criticality' that prioritises movement despite structures of power, and produces meaning through intricate webs of connectedness (2006, p. 1). The article sees this operation in the gender non-conforming protagonist of Genet's text; Divine, who engages multiple configurations of recognition and movement, both in the novel and in secondary sources. Jean-Paul Sartre and Edmund White rearticulate Genet's work within canonical frameworks of philosophy, literary, and queer studies. These are self-implicating projects in which their own canonicity becomes entwined with Genet's, intervening in the work's possibilities of movement and interpretation. Kathy Acker's engagement with Genet breaks with these writers. She, likewise, engages canonical frameworks; however, her demonstrated criticality of those frameworks attempts to amplify the smuggling movement of Genet's text. Tracing smuggling in Our Lady of the Flowers, this article moves towards an expanded understanding of differing configurations of visibility, differing critical priorities, and differing utilities of movement over time and space.
More

Less

Abstract

Presented through an intersectionally framed study investigating U.S.-based transmasculine college students' conceptions of masculinity, this paper explores a myriad of methodological and analytical queries by examining trans*ing as method. How might trans*ing taken-for-granted constructs (such as masculinity) full of unnamed – and thus unchallenged – assumptions resist dominant narratives that drive theorising and practice and thus seek solutions and interventions that can improve everyone's lives? What possibilities lie in the asterisk's disruptive potential that can cause us to 'pause in order to reach beyond' (Patel, 2016, p. 88) hegemonic and settler colonial structures of masculinity? How might attending to the relationality of trans identities (Catalano, 2017; Jourian, 2017a; Nicolazzo, 2017), the relational nature of research (Patel, 2016), and the 'process-oriented rather than end-oriented' (Spade, 2015, p. 189) nature of critical trans politics allow us to resist normative and positivistic analytical practices that distill complex data and people into simplistic models and understandings? Divergent and disruptive thinking and arriving at these constructs from unexpected starting points exposes tensions and false binaries in them, points of excess that then have to be transformed to have meaning, driving scholarship and practice towards liberatory potentials.