Volume 42, Issue 1, 2020
Tijdschrift voor Taalbeheersing

- Volume 42, Issue 1, 2020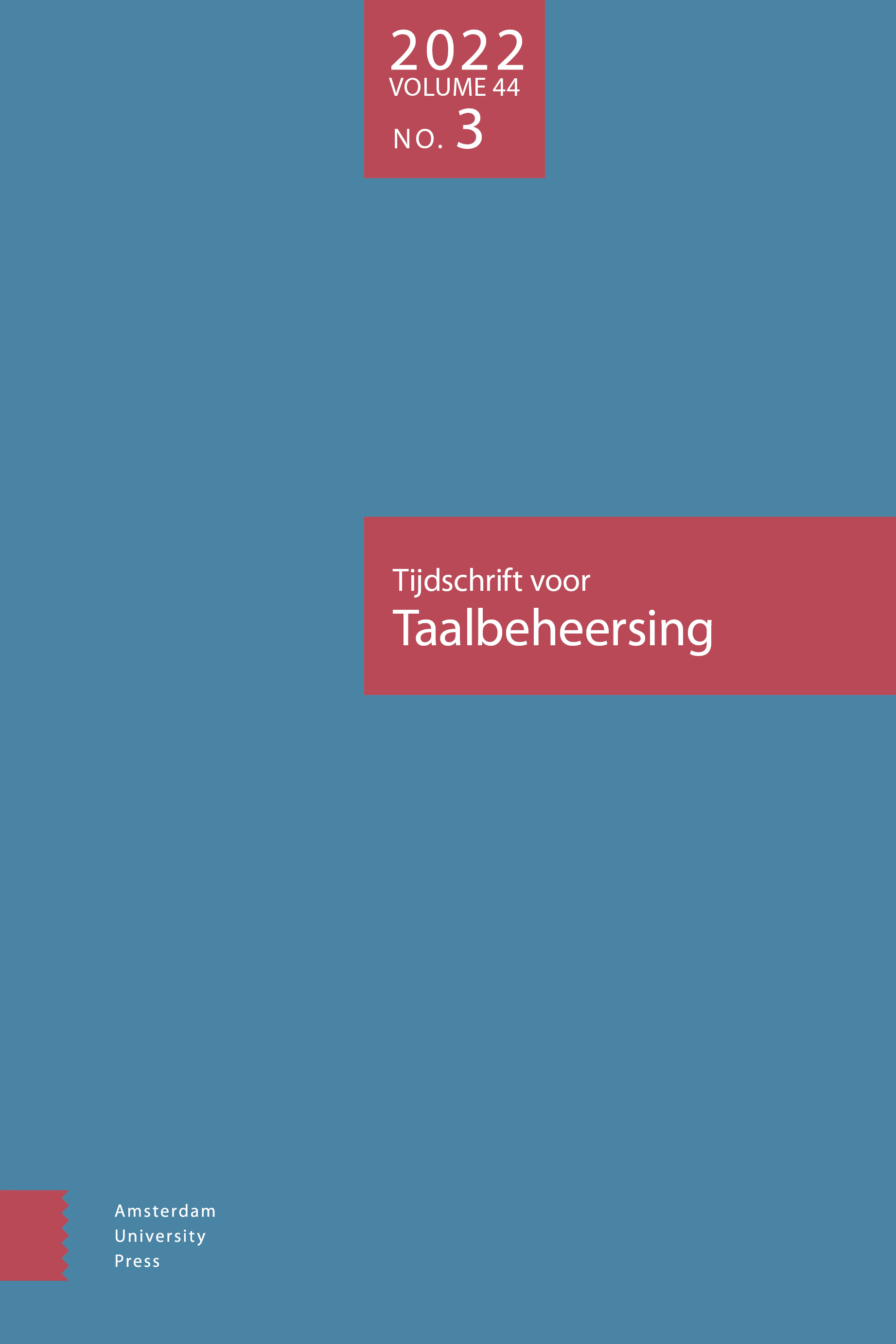 Language: English
More

Less

Abstract

Secondary school students have to learn how to write comprehensible paragraphs as part of a text. But to this very day it is not clear to these students and their teachers what exactly the standards, the language norms, are for a comprehensible paragraph. The study summarised here presents a reconstruction of language norms for a paragraph in Dutch and legitimises these on the basis of theoretical and empirical research outcomes in Linguistics and Discourse Analysis. An analysis of 29 Dutch professional advisory books shows that paragraphs are seen as important textual elements. Although advisory books differ considerably with respect to the level of detail in which paragraph norms are discussed, they converge on the nature of those norms. Textbooks used in the teaching of Dutch as a first language, however, witness a striking diversity with respect to the paragraph norms they mention. The current study contributes to the development of a theoretically grounded and practical approach that helps teachers train their students in writing adequate paragraphs.
More

Less

Abstract

Responding to an e-consult: the development and validation of a protocol for the doctor

From Media Synchronicity Theory and the so-called egocentrism hypothesis, it is predicted that answering a patient message in an e-consultation in comparison with the face-to-face consultation places a number of specific requirements to ensure that the patient values the communication positively. These requirements have been elaborated on the basis of a number of preliminary studies and converted into a protocol against which a doctor's answer can be tested. In a main study, (a) it was investigated to what extent answers that advanced medical students create without any prior instruction comply with the protocol and (b) whether answers that meet the protocol to a higher degree indeed receive a higher rating from patients than answers that don't comply with the protocol. The latter appears to be the case. Because it appears that e-consultations of many medical students do not yet comply with the protocol, we can conclude that this protocol can form the basis for training doctors and medical students.
More

Less

Abstract

The impact of language and gender in negative reviews: an experimental study on perceived credibility and consumer behaviour

This paper explores the impact of language and gender on the perceptions of a negative online review and its writer. We set up an experiment with a 2 (language errors vs. no errors) x 2 (Standard Dutch vs. tussentaal, lit. 'in-between-language') x 2 (female vs. male reviewer) x 2 (female vs. male respondents) between-subjects design. 298 participants were asked to rate one scenario with a negative review on text credibility, usefulness, emotion, source intelligence, consumer intention and WOM-intention. The results show that both gender and language have a significant impact on the perceptions of the respondents. The perceived text credibility, intelligence of the reviewer, usefulness of the review and consumer intention are significantly lower when the negative review contains language errors and/or tussentaal features and when the reviewer is female. The Standard Dutch scenario without mistakes of the male reviewer generates the highest scores.