Volume 25, Issue 4, 2022
Tijdschrift voor Genderstudies

- Volume 25, Issue 4, 2022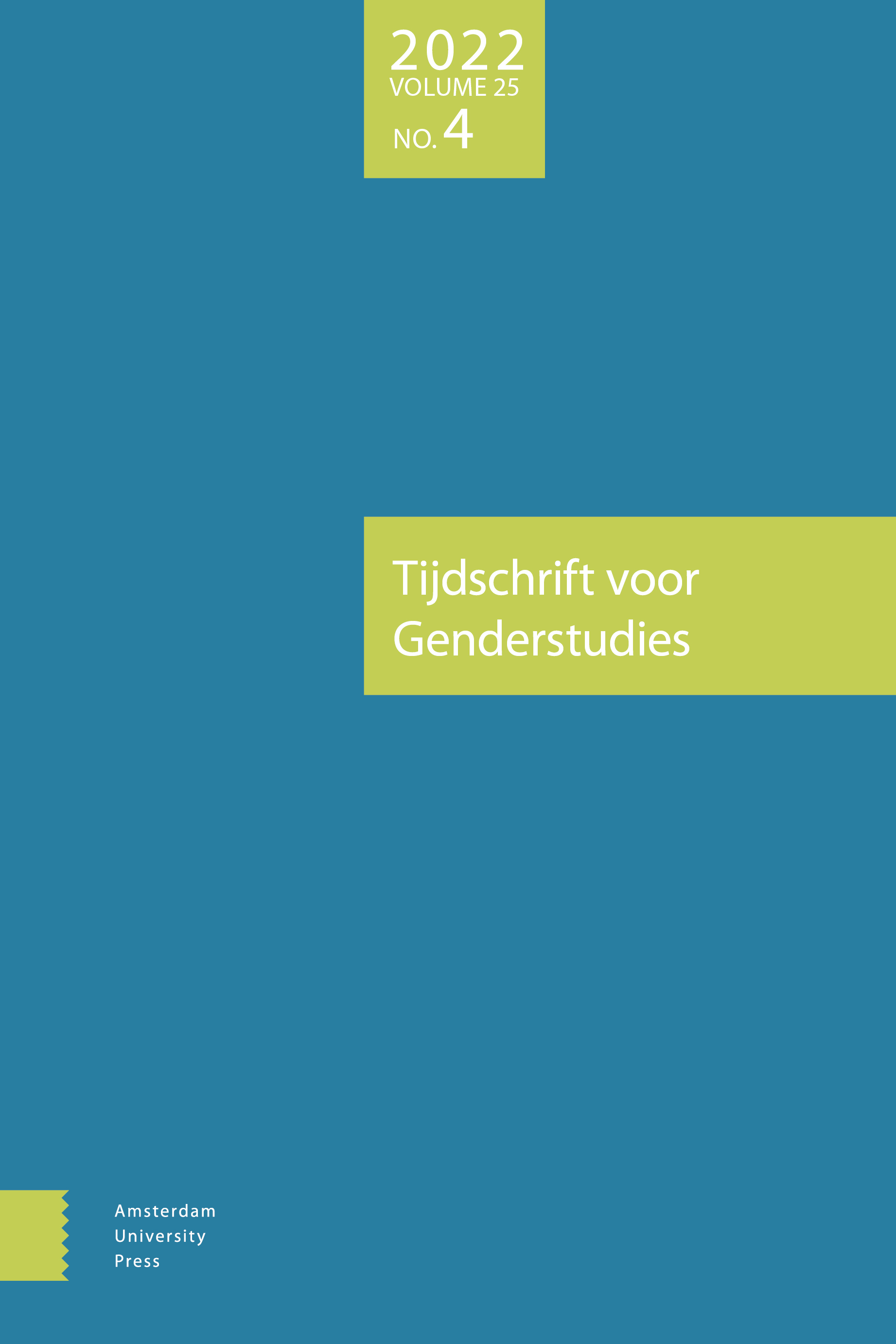 More

Less

Abstract

Being increasingly denounced by feminist movements, intimate partner violence (IPV) is an ever-present issue in the public sphere. Nevertheless, IPV victims' help-seeking strategies remain largely underresearched in Europe. Drawing on an intersectional framework, the purpose of this paper is to analyse IPV victims' help-seeking strategies. Data were collected through semi-structured interviews conducted with twelve female IPV survivors of various origins and backgrounds, who turned to shelters and associations in Brussels, Belgium. Interviews were analysed using thematic content analysis. The main findings show that overall respondents prefer formal strategies over informal ones, and that ethnic and racial minority survivors have a more positive view of the support they received than White Belgian women.
More

Less

Abstract

This article gives insight into the ballroom scene in the Netherlands, in which queers of colour find a safe space that enables what they call individual 'transformation' towards becoming their 'free-selves'. During lessons and club events called 'balls' their performances are constantly evaluated and corrected, as co-students, teachers, audiences, and judges at the end of the runway exhort them to 'work' and 'fake it'. Understanding ballroom as a form of minoritarian liberalism, this article uses these phrases to explore through what precise operations of self ballroom generates a form of queer freedom. Drawing on post-secular theories of docility, imitation and agency, we show that the cultivation of queer 'free-selves' is arduous and requires incessant individual and collective disciplinary labour. By disciplining the body to the outer, scripted performance of alternative gendered ways of being, the inner self changes accordingly. It can become the free and confident self that the body has been taught to imitate and display. Ballroom's critical force does not lie solely in its queering of dominant constellations of sex and gender, but also in its queering of the operation and meaning of freedom.
More

Less

Abstract

Based on autoethnographic material and feminist theory, such as care ethics and epistemic (in)justice studies, we expose four forms of epistemic injustice in reproductive care in the Netherlands: hermeneutical injustice, testimonial injustice, willful hermeneutical ignorance, and gaslighting. These forms of injustice rest on deeply rooted systems and their associated assumptions and on practices that produce and reproduce this injustice. We draw upon care ethics to suggest alternative practices that may counter these epistemic forms of obstetric violence, by explicating the (embodied) voice of the care receiver in reproductive care.