Volume 109, Issue 3, 2017
Algemeen Nederlands Tijdschrift voor Wijsbegeerte

- Volume 109, Issue 3, 2017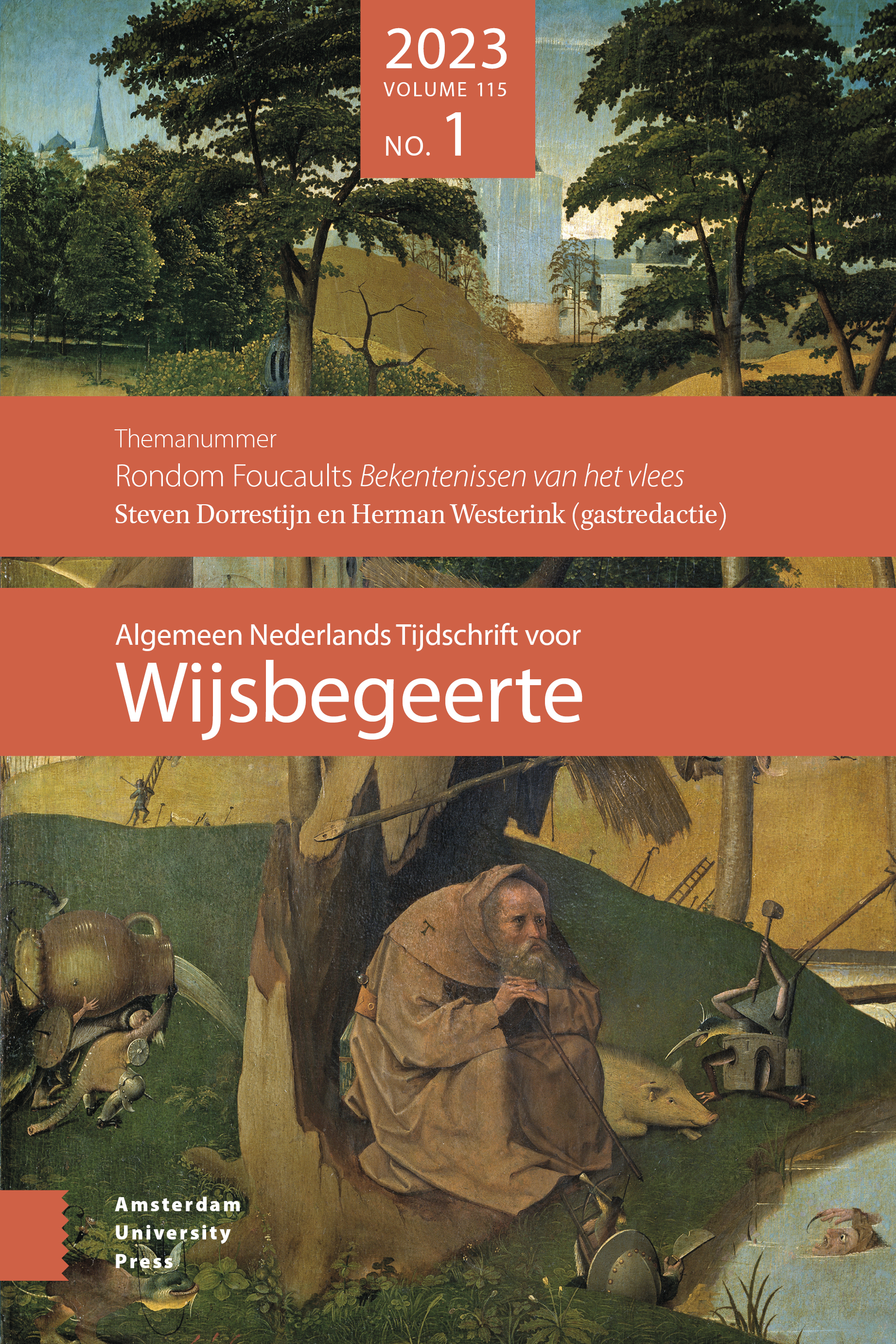 Volume 109, Issue 3, 2017
Language: English
More

Less

Abstract

Psychopaths' Dysfunctional Conscience and their Moral Incompetence1

I develop here a Kantian framework for understanding conscience in order to examine whether moral flaws of psychopaths are traceable to their dysfunctional conscience. When understood as the reflective capacity for moral self-assessment that triggers certain emotional reactions, conscience proves to be a fruitful tool for explaining psychopathic moral incompetence. First, I show how the unrealistic moral self-assessment of psychopaths affects their competence in judging moral issues and in being motivated to act morally. I then highlight how focusing on this specific rational deficit of psychopaths significantly modifies the status of rationalism within the contemporary dispute as to whether psychopathy supports sentimentalism alone.
More

Less

Abstract

Conscience as experience, symbol and concept1

For most of the recorded history of the Western world, conscience was experienced and conceptualized as, if not a divine phenomenon in itself, then at least a point of contact with the divine, with absolute moral truth. Its respected status still shows in the legal provisions made for conscientious objections. Over time, however, conscience underwent a devaluation, until in the twentieth century the concept had largely disappeared from philosophical ethics as well as mainstream psychology. In this article I trace the history of conscience in an attempt to make sense of this devaluation, and to rethink the concept of conscience. Inspired by the work of Eric Voegelin, Michael Polanyi, and others, I argue that a certain forgetfulness lay behind the modern rejection of the concept: a forgetting of the symbolic nature of expressions of conscience, and of the experiences that engendered those expressions. By recovering those experiences and reminding ourselves of the symbolic nature of expressions of conscience we are also able to construct a 'fluid' concept of conscience that does justice to its experiential reality without reifying conscience. This may also be a first step towards a renewed appreciation of the meta-ethical importance of (engaging with) experiences of conscience.
More

Less

Abstract*

Conscientious objection and the limits of vertical toleration in the liberal state

Liberal states tend to tolerate certain conscientious objectors, but not others. They tolerate doctors who conscientiously refuse to perform abortions, but do not extend the same toleration to civil servants who conscientiously refuse to register same-sex marriages. In this article, I analyse the attitude of liberal states to different claims of conscience in terms of vertical toleration, and its limits. Contrary to a prevailing political theoretical argument, I submit that there is space for vertical toleration – that is, toleration by the state – in the contemporary liberal state. Yet, this space is limited. It only opens up when individuals' practices prima facie contravene core liberal values. Whenever that is not the case, as with conscientious objection to military service, the lens of vertical toleration is not the appropriate one. But in relation to other claims of conscience, such as of doctors against abortion, the attitude of liberal states can be described in terms of vertical toleration. The practice finally reveals that certain conscientious objectors, particularly civil servants who refuse to register same-sex marriages, are not tolerated by the liberal state. Their practices exceed the limits of vertical toleration. This article explains why the prevailing practice in liberal states, as described, gets it right.
More

Less

Abstract

The double subjectivity of conscience and the need to test conscientious objections

In spite of the collapse of the traditional objective concept of conscience and the subsequent subjectivation of conscience, conscientious objections are still often considered as a valid ground for exemption from legal and professional obligations. Conscientious objections are seen as more serious than ordinary moral objections. It is not evident why this is so. I argue, with Niklas Luhmann, that the function of conscience is to protect the moral core of a person's identity. Overruling conscientious objections threatens this core. Claims of conscience are usually founded on the right of freedom of conscience. This right is not absolute. I discuss the view of Richard Arneson who rejects the right of freedom of conscience and defends the right against conscience. I agree with Arneson that, at the one hand, conscientious objectors may constitute a threat to the social and legal order when their objections are not recognised and, at the other hand, too easy giving in to conscientious objections may also threaten the viability of social and legal order. That is why it is needed to determine when conscientious objections cannot be taken at face value, but should be subjected to a series of tests. The aim of these tests is to contain the number of objectors. I discuss 6 criteria for determining whether conscientious objections ground an exemption to legal and professional obligations. At the end of the article I discuss the conscientious objections of medical doctors.
More

Less

Abstract

'Practical' Moral Conscience: on the necessity of and conditions for moral intervention

This article seeks to connect insights from moral psychology to methodologies of moral learning. This is done by way of the notion of 'practical' moral conscience. Our moral conscience warns us when we are (potentially) bound to make a moral mistake. While a capacity possessed by all, the contents of our moral conscience are largely bound by our social-cultural upbringing. Add to that the findings of moral psychology that our moral judgments are 1) largely intuitive and 2) that these intuitions are heavily influenced by our cognitive limitations and emotional triggers, and a need for interventions on our moral conscience emerges. This need is particularly obvious within (governmental) organizations, which for their integrity are dependent on morally conscious employees. Without specifying a specific method by which to undertake such interventions, this article stipulates four preconditions for the needed critical engagement with our moral conscience.
More

Less

Abstract

Conscience – a catholic anthropological vision

In the catholic tradition conscience always played an important role as visible in the 'clausula Petri' (Ac 5,30-33) or in Paul's belief in its wisdom (Rm 2,14-16). Conscience can break rules ('epikeia'), but should not stand up against the church as such. Luther's historical deed left behind a distrust in conscience in the Catholic Church; it took 400 years to restore Paul's vision of the conscience as the highest authority – if it is formed and reaches the state of maturity. By his conscience, man is called to be as God created him; he is called by others to develop and to respect their dignity. He is also called by the world to form it according to its higher possibilities which cannot be realized but by man. Conscience is God's voice in the person where his promises can be heard. Though conscience is free, it is the place where responsibility is formed according to what someone can and should do. This is why the conscience will keep its unavoidable and undeniable role – even in a postmodern context.