Volume 27, Issue 3, 2020
FORUM+

- Volume 27, Issue 3, 2020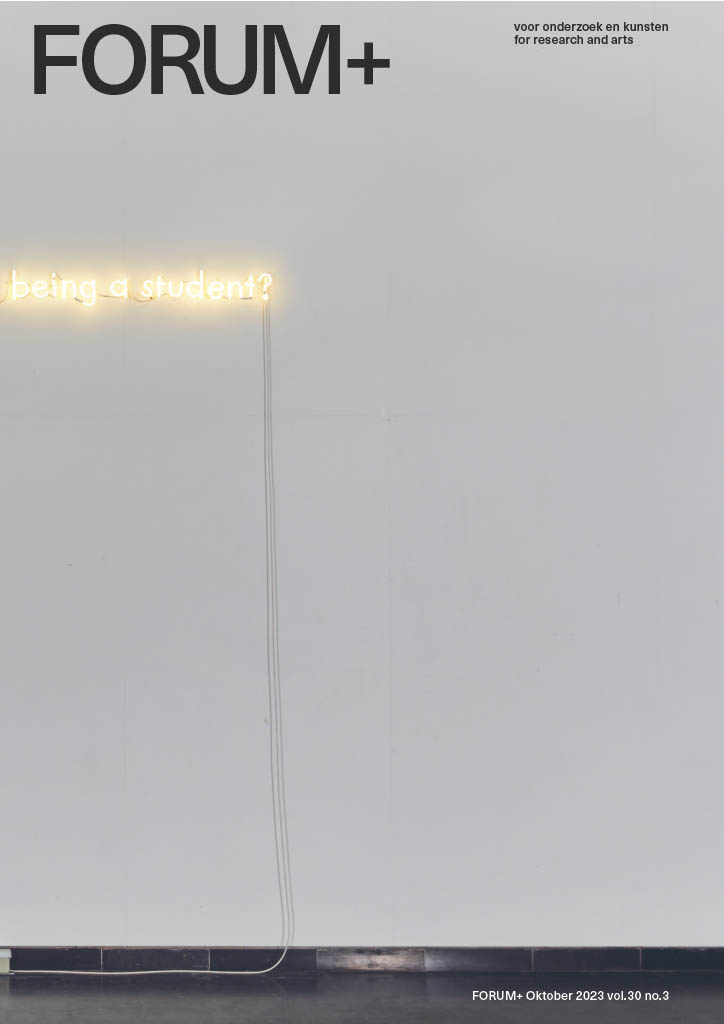 Language: English
More

Less

Abstract

Onderzoek in de kunsten is de laatste decennia sterk gegroeid aan de kunsthogescholen en universiteiten: de herformulering van de artistieke praktijk als een onderzoekspraktijk ('alle kunst is onderzoek') heeft in toenemende mate plaatsgemaakt voor de actieve uitdieping van kunst als een specifieke vorm van kennisproductie die tot nieuwe inzichten, ervaringen en mogelijkheden leidt. In dit artikel zetten Falk Hübner en Joost Vanmaele een aantal wegwijzers in dit inmiddels omvangrijke gebied. Ze bewegen zich in drie etappes van een generiek perspectief op methodologie en methodes, naar de mogelijkheden die methodes bieden binnen de specifieke context van artistiek onderzoek. Ten slotte gaan ze in op de concrete bijdragen in dit themanummer van FORUM+ over methode en methodologie in onderzoek in de kunsten.
More

Less

Abstract

Artistic research methodology is pluralistic, variable and pliable. It is a constellation of research things and practices that contain numerous possibilities and solutions and it underpins a dualistic concept: the predefined path set by the researcher's subjective background and the unprecedented path where new insights, understandings and products come into being. Percussionist and marimbist Adilia Yip proposes a two-step modus operandi – reduction and prejudice – to help artist-researchers develop and justify the appropriate tools and techniques in forming a method.
More

Less

Abstract

Het registreren of documenteren van een performance zal voor uitvoerend kunstenaars niet vreemd zijn. Minder bekend is waarschijnlijk het inzetten van een video-opname om zoveel mogelijk gedachten te activeren die door het hoofd speelden tijdens de performance. Deze onderzoekmethode wordt Stimulated Recall Methode (SRM) genoemd, een overkoepelende term voor introspectief en reflectief onderzoek waarbij de gedachten op het moment van een gebeurtenis opnieuw worden opgeroepen door naderhand naar een video-opname van die gebeurtenis te kijken. In dit artikel bespreekt Esther Schopmanaan de hand van diverse voorbeelden de bruikbaarheid van deze methode voor onderzoek in en door de artistieke praktijk.
More

Less

Abstract

In this essay, visual artist and writer Manju Sharma reflects on the use of autobiography as a methodology for storytelling in the visual arts. She focuses on the methods that she uses to explore the self and its relatedness to the world that she wishes to grasp. She also sheds light on how autobiography fits into her artistic practice as a means of finding hidden narratives and to keep the personal narrative related to the world. The essay touches upon the use of personal stories, cross-linking and note-taking to unpack everyday sensitive issues that can allow people to find their voice and to speak out.
More

Less

Abstract

In this article songwriter Ronja Maltzahn focuses on examples and experiences of co-creation as a method for multilingual songwriting and musical translation. She distinguishes between a hierarchical and non-hierarchical perspective – here referred to as an eye-to-eye-level. Maltzahn demonstrates how within the hierarchical framework, two roles can be adopted: a visionary or a reflectionist role. Each position and setting is analysed in terms of possibilities, advantages, challenges, and difficulties.
More

Less

Abstract

In vijf reflecties verkent Hannah Van Hove, vanuit haar eigen schrijf- en onderzoekservaringen, wat het betekent om in het onderzoeksproces de 'ik', meestal ogenschijnlijk weggecijferd in academische teksten, te benadrukken. Een centrale vraag bij deze bedenkingen betreft de invloed van de onderzoekservaring zelf op ideeën over taal als methodologisch instrument, wetenschappelijke argumentatie en de waarde van onderzoek.
More

Less

Abstract

This article seeks to share the methods and strategies of the practice-based research project Ninety movements on TECHNOGYM G6508D. The research dissects the act of running in all its dimensions by fragmenting, archiving, incorporating, and highlighting what is unique and personal in each gesture and each way of moving. Ninety Movements is a continuation of Carolina Bonfim's recent artistic practice, which explores the relationship between the body and the archive through a visual-arts approach.
More

Less

Abstract

This article presents the initial definition and subsequent adaptation of the research methodology adopted in Marco Fusi's investigation of the creative process of the Italian composer and poet Giacinto Scelsi. The method adopted is purposefully designed with a decreasing degree of definition, to allow for the emergence of an efficient research strategy based on the early findings of the process. This organic approach has led to the definition of significant creative outcomes, useful for the development of the performance practice of Scelsi's works.
More

Less

Abstract

In deze bijdrage experimenteert Joeri Verbesselt met de troop van de kannibaal om over de positie van de kunstenaar binnen de hedendaagse (populaire) cultuur te reflecteren. Hij haalt zijn ingrediënten enerzijds uit de westerse geschiedenis van kannibalisme. Maar anderzijds baseert hij zich ook op het concept van cultureel kannibalisme dat ontstond binnen Braziliaanse modernistische avant-gardebewegingen - in plaats van de invasieve populaire cultuur te imiteren of te verwerpen, stelden die voor om deze te kannibaliseren: inkomende prikkels eten, verteren en uitscheiden in een nieuwe, vruchtbare vorm. Verbesselts resultaat is een wansmakelijke recept voor een artistieke benadering van cultuur dat fictie, theorie en autobiografie vermengt tot kladderij.
More

Less

Abstract

Net als in meer traditioneel academisch wetenschappelijk onderzoek wordt de artistiek onderzoeker vaak verzocht zijn of haar methodiek te duiden. Zowel een talige als een artistieke flexibiliteit blijkt noodzakelijk om te kunnen resoneren met een divers publiek uit uiteenlopende contexten. Methodologische uiteenzettingen resulteren echter meestal in abstracte retrospectieve reflecties die soms volledig losstaan van het daadwerkelijke werk. Vertrekkende vanuit haar eigen ervaring als jonge onderzoekster in de kunsten, voert Mariske Broeckmeyer een pleidooi voor een natuurlijke integratie van de methodiek ín het artistieke werk – een doel dat enkel te bereiken is wanneer de flexibiliteit van de kunstenaar ten volle wordt benut en de vele diverse momenten van disseminatie de leidraad, zelfs de essentie vormen voor de ontwikkeling van het onderzoek en de artistieke praktijk.
More

Less

Abstract

Met zijn tweeën een tentoonstelling bouwen, uitgaande van het idee dat beide kunstenaars niet naast elkaar werken, maar hetzelfde verhaal dienen. Dat was het eenvoudige opzet van Poetas Sin Alfabeto. Documentairemaker Jan Vromman en danser Vincent Dunoyer sloegen de handen ineen voor een expo in ARGOS, centrum voor hedendaagse audiovisuele kunst in Brussel. Voor dit project zoomen ze in op de cultuur en mythologie van Spanje. Hoewel Dunoyer vaak video gebruikt, is hij vooral een performer die de ruimte bespeelt. Vromman zoekt als filmmaker met een sterke interesse in geschiedenis eerder naar narratieve vormen. In een verslag in woord en beeld beschrijft laatstgenoemde hun aftastende proces, inclusief de twijfels, de voorzichtige ideeën en het zoeken naar een gemeenschappelijk verhaal.