Volume 131, Issue 2, 2018
Tijdschrift voor Geschiedenis

- Volume 131, Issue 2, 2018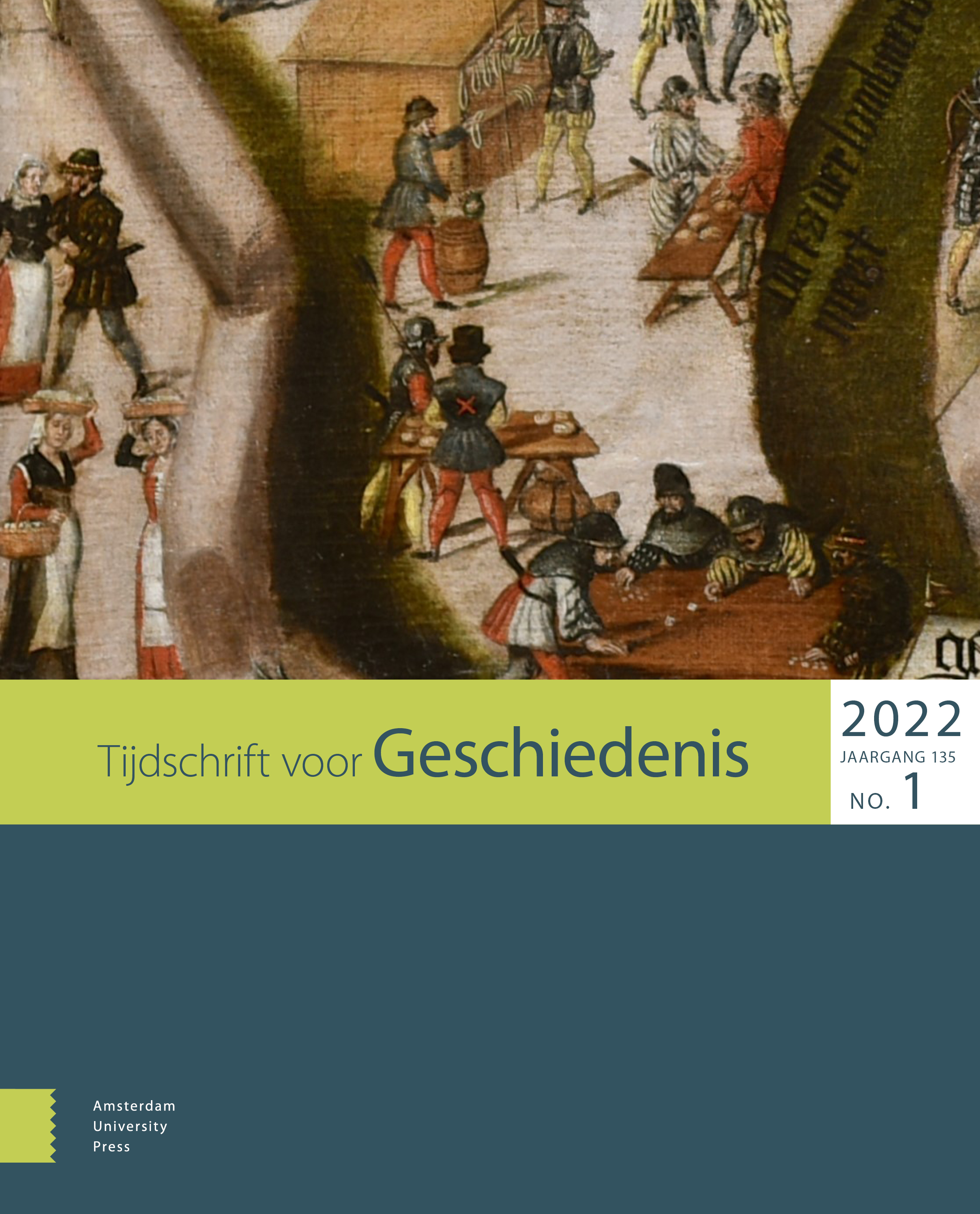 Volume 131, Issue 2, 2018
Language: English
More

Less

Abstract

Mercantile Communities in the Roman World. Networks, Cult Associations, or Guilds?

In this article I argue that the recent focus on merchant and shipping collegia in the ancient Roman economy is too one-sided. Long-distance merchants and shippers needed networks to gather information and find partners. In some cases these networks were structured in closed formalised groups (as guild-like collegia), but in other contexts networks remained informal configurations of personal relations based on instrumental friendship or family alliances. Rather than focus on collegia I argue that we should study how mercantile communities were structured and organised and why different solutions were reached in different communities, with some opting for formalised groups and others for informal networks. I make my case by presenting three case-studies of important trade hubs in different periods and places in the Roman world: late Hellenistic Delos, early imperial Puteoli, and second and third century Ganuenta.
More

Less

Abstract

The Escorial and Humayun's Tomb in comparison. Shaping the dynastic past of the Mughals and the Habsburgs in the sixteenth century

Royal tombs and monuments, such as the imperial tombs of India and the Escorial of Spain, are among the best-known monuments of the early modern period. This article compares the Escorial, which served as the dynastic vault for the Spanish Habsburgs but particularly glorified Emperor Charles V, and the tomb built for the Mughal emperor Humayun. Both were built by their sons, Philip II (r. 1556-1598) and Emperor Akbar (r. 1556-1603). By tracing the building history and the commemorative practices that emerged around these two buildings we can analyse and compare how these two rulers – who were only the third of their line in a new territory – shaped the memory of their fathers and used it to legitimize their own power.
More

Less

Abstract

A vanguard of social change. Political awareness of Catholic students in the Union of Catholic Student Associations and in Pax Romana, 1945-1963

In this article we reveal traces of national and international political engagement among Dutch Catholic students in the post-war period. Our point of departure is the reputation of Catholic students of the late 1960s as idealistic revolutionaries in the vanguard of political turmoil. In our view the roots of their political activism can be found in the 1950s. In literature student life in the 1950s is presented as apolitical. In this article, however, we claim that already in those days Catholic student associations were anything but apolitical. Two coordinating student bodies, the national Union of (Roman) Catholic Student Associations and Pax Romana, the international movement of Catholic students, offered a platform for and even stimulated political discussion. Our research shows that these bodies had an important role in fuelling the political and social engagement of Catholic students.
More

Less

Abstract

Catholic psychotherapy in the post-war Netherlands. Boundaries, gender, and authority in the Terruwe Affair

In Dutch historiography the Terruwe Affair is at the heart of an explanatory narrative which presents the professionalization of religion-based mental health as part of a liberation of Catholics from the clerically-enforced moral regulations and requirements of their Church. The affair culminated in an official warning by the Holy See in 1956 concerning moral standards in the treatment of mental health issues. This warning implicitly identified the academically-trained psychiatrist and psychotherapist Anna Terruwe (1911-2004) as a morally questionable practitioner. This article explores the manner in which Terruwe as a medical professional sought clerical and ecclesiastical approval for her psychotherapeutic practice. She embedded her psychotherapy in an ecclesiastically-approved theoretical framework, forged professional alliances with influential clerics, and attempted to enhance her professional status by appealing to divine authority. To her mind, her psychotherapeutic practice served the salvation of souls. This approach threatened to blur the already diffuse boundaries between psychotherapy and pastoral care, as her alliances with influential clerics challenged inner-church authority relationships based on differences of gender and state in life. This explains more clearly the official warning issued in 1956, but complicates at the same time earlier historiographical evaluations of Terruwe as a 'mental liberator' since she clearly tried to position herself as a psychotherapist operating under the tutelage of her church.
More

Less

Abstract

The Dutch historical journal Tijdschrift voor Geschiedenis digitized, 1886-2008. A content exploration as a plea for combining digital and traditional research methods

After the digitization of all issues of the Dutch historical journal Tijdschrift voor Geschiedenis from 1886 till 2008, this article explores the content of this digital collection by applying two easily accessible digital methods: keyword search and word frequencies. It makes clear that interest in the nineteenth century has increased over time, while the seventeenth century has gradually become a less popular period in the Low Countries' historiography. Furthermore, the assumed post-WWII dominance of British and American historiography over German historiography cannot be confirmed unequivocally using these methods. The article also discusses to what extent traditional historical research may benefit from digital methods. The authors demonstrate the limitations of a 'deductive analysis' of a text corpus when using a set of keywords, as the translation of a concept into search terms is often arbitrary and incomplete. An 'inductive analysis' based on word frequency offers a more genuine and varied impression of a text corpus. The authors underline the importance of including digital methods in the regular toolkit of historians, and argue that working with digital tools challenges researchers and the way they conventionally handle their sources.
More

Less

Abstract

Beyond the Last Utopia. About the historiography of human rights

Human rights is a highly contested concept in both current public debates and recent historiography. In this review essay the historiographical debate about human rights, in particular invoked by Samuel Moyn's Last Utopia (2010), is analysed by discussing three recent monographs: Mark Bradley's The World Reimagined (2016), Steven L.B. Jensen's The Making of International Human Rights (2016), and Marco Duranti's The Conservative Human Rights Revolution (2017). Although these books offer valuable insights into the much- debated 'global breakthrough' and chronology of human rights, their main contribution has to be located elsewhere: in 'provincializing' the foreign policy of the United States (Bradley), in pointing to unknown but influential actors and issues in the history of the United Nations (Jensen), and in providing a new perspective on the early days of European integration (Duranti). Based on this analysis, it is argued that human rights and their chronology should no longer be considered as a historiographical field in isolation, but that human rights must be investigated as part of broader political ideologies and practices, as a tool of marginalized countries and groups, and as a concept that enables historians better to understand relations between developments at the local and translocal level, and domestic and foreign policies.