Volume 21, Issue 1, 2016
Nederlandse Taalkunde

- Volume 21, Issue 1, 2016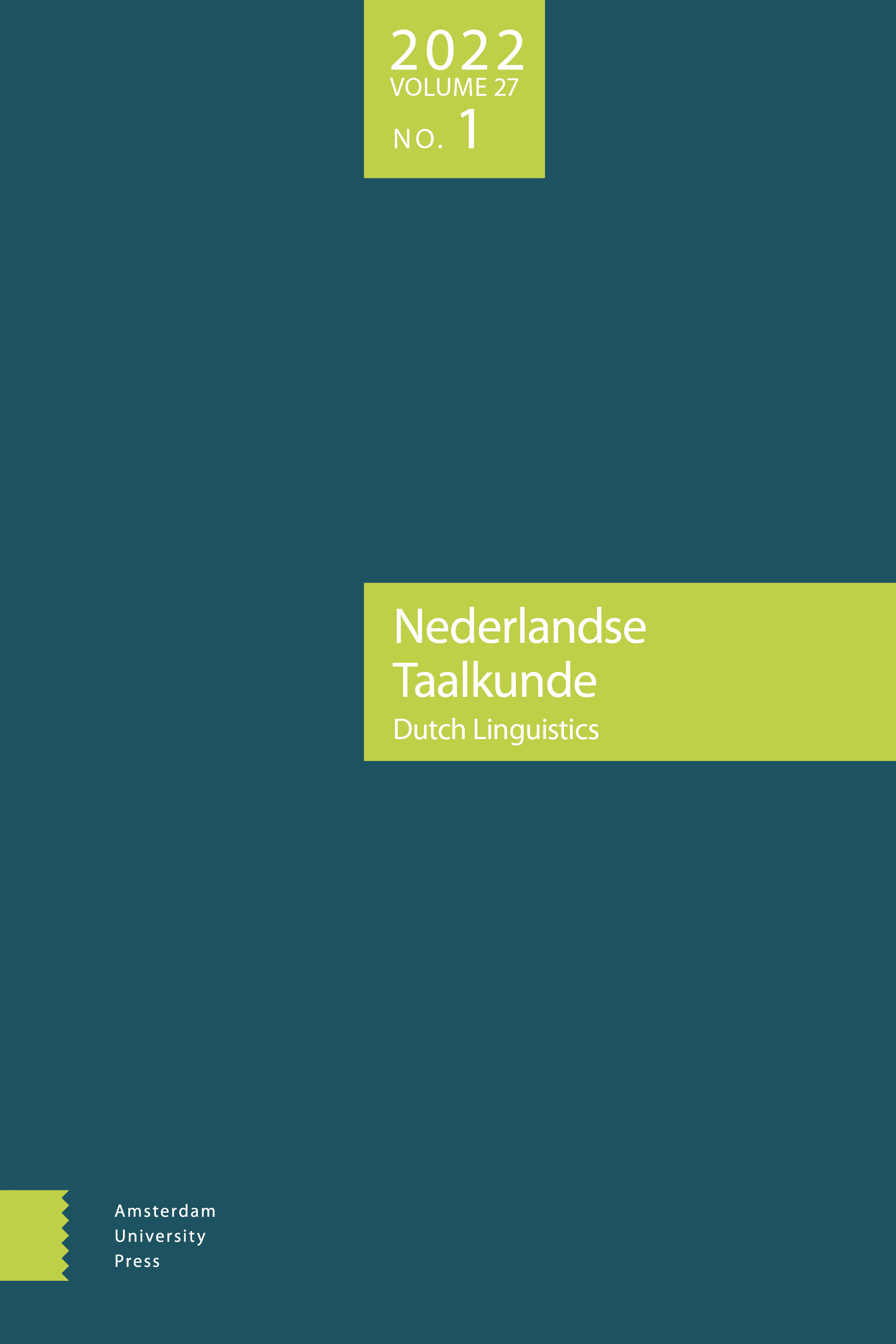 Language: English
More

Less

Abstract

Waar is je velo? Buiten staan. On fragment answers with infinitives in Maldegem dialect

This paper describes the properties of a construction in a specific Flemish dialect, in which infinitives are used in fragment answers in contexts where this would be unacceptable in Standard Dutch or other varieties. Questions such as Waar is mijn bril? 'Where are my glasses?' and Waar is je velo? 'Where is your bicycle?' can be answered in this dialect with infinitival constructions such as Op tafel liggen 'layINF on the table' and buiten staan 'standINF outside'. We apply an analysis of fragment answers in terms of ellipsis (based on Merchant 2004) to these infinitival constructions. However, we find fragment answers with infinitives in contexts where the assumption of ellipsis is highly problematic, since there is no plausible underlying structure available in the dialect. We show that the construction has extended its use to contexts in which the infinitive independently expresses the tense features of the sentence. The description of the properties and restrictions of the construction is based on a survey in which more than thirty speakers were tested for their judgements of fragment answers depending on the features in the grammatical context of the infinitive.
More

Less

Abstract

The ontological status of the dependent verb-first construction in Dutch

Dependent verb-first clauses have received a fair amount of interest from a functionalist perspective. In this paper, I argue that their conceived unity as a grammatical construction might be overstated. I do so on the basis of both categorical and probabilistic differences in the distributions of the various types that I discern. The shared functional properties of the various dependent verb-first clauses are best seen as non-conventional tendencies rather than as a conventional symbolic function, that may have driven the development historically, but is not a part of the inventory of linguistic knowledge of a language user synchronically.
More

Less

Abstract

Dependent V1 clauses: Conditional, contrastive, concessive - functional-typological and constructional perspectives

Responding to the preceding article by Beekhuizen, the present contribution comments from a functional-typological and constructional perspective on Beekhuizen's opinion that the V1-order is not a "strong" linguistic sign in Dutch. Beekhuizen's categorization of the different types of subordinate V1-clauses is questioned on semantic and pragmatic grounds, and the position is defended that V1-order in subordinate clauses can be regarded as signalling conditionality, provided one accepts that contrastive and concessive types of V1-clauses arose from existing V1-conditionals by 'secondary' processes of grammaticalization. Using supplementary observations from German (and occasionally also English), the article ends by sketching the constructional profile of subordinate V1-clauses in Dutch and suggesting that no constructional approach to V1-clauses can ultimately be complete without due consideration of declarative as well as subordinate V1-clauses.
More

Less

Abstract

Time to fell the syntactic tree. Long-distance dependencies without transformations or filler gaps

Long-distance dependencies belong to the most controversial challenges in linguistics. These patterns seem to contain constituents that have left their original position in a sentence and that have landed in a different place. A typical example is the relative clause the person I have talked to yesterday, in which the direct object (the person) is not situated in an argument position following the verb, but instead is located at the beginning of the utterance. Upon closer inspection, however, all problems related to long-distance dependencies can be reduced to the limits of phrase structural analyses. A phrase structure tree is a rigid data structure in which information is shared between local nodes. These analyses therefore need to resort to more complex formal machinery in order to overcome this locality constraint, such as using transformations or positing filler-gap constructions. However, there exists a more intuitive alternative within the tradition of cognitive-functional linguistics in which long-distance dependencies do not require special treatment. Instead, these patterns are simply the side effect of how grammatical constructions combine with each other in order to satisfy the communicative needs of language users. Through a computational implementation in Fluid Construction Grammar, this article demonstrates that it is perfectly feasible to formalize this alternative in a model that is capable of both formulating and comprehending utterances.
Authors:

Ton van der Wouden, Jenny Audring, Hans Bennis, Frits Beukema, Geert Booij, Hans Broekhuis, Norbert Corver, Crit Cremers, Roderik Dernison, Marcel den Dikken, Siebren Dyk, Carlos Gussenhoven, Ger de Haan, Vincent van Heuven, Eric Hoekstra, Jarich Hoekstra, Bart Hoogeveen, Gerbrich de Jong, Evelien Keizer, Anna Kirstein, Björn Köhnlein, Frank Landsbergen, Kathrin Linke, Marc van Oostendorp, Nina Ouddeken, Koen Sebregts, Carole Tiberius, Arjen Versloot, Willem Visser, Riet Vos, Truus de Vries & Joke Weening

More

Less

Abstract

Taalportaal. A new scientific grammar of Dutch and Frisian (and Afrikaans)

We describe the Taalportaal, a new comprehensive on-line scientific grammar of Dutch and Frisian.