Volume 22, Issue 2, 2017
Nederlandse Taalkunde

- Volume 22, Issue 2, 2017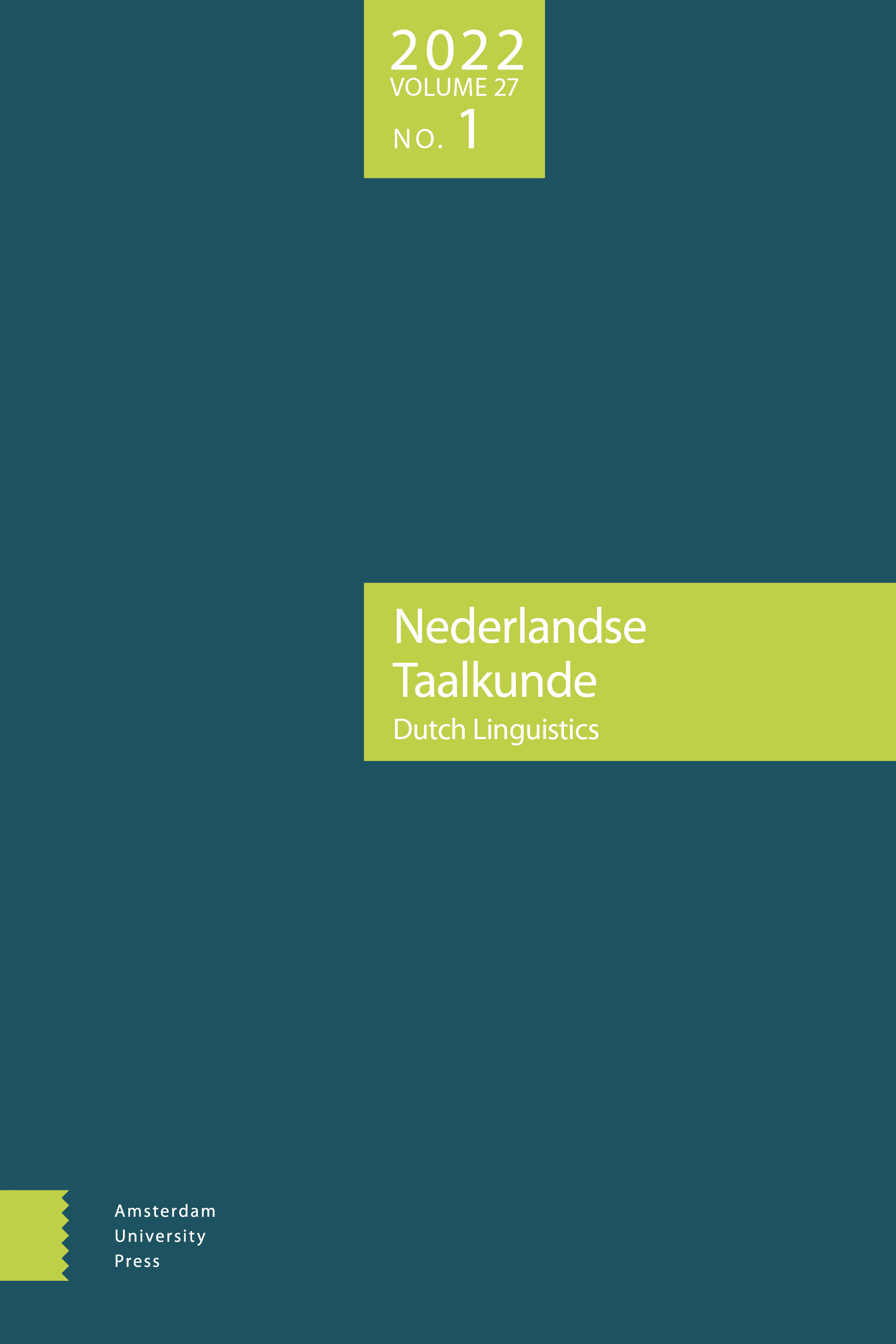 Language: English
More

Less

Abstract

Quantitative er and ze

This paper reconsiders the syntax of indefinite quantitative er and its definite counterpart ze. Quantitative er 'there' is obligatory in Dutch when the only visible element in a nominal group is a numeral. I argue that quantitative er is the pronominalization of a lower projection of the nominal group (DP-low) that contains directly modifying adjectives and complements of N but not relative clauses and PP-adjuncts. Quantitative ze is the pronominalization of a higher projection of the nominal group (DP-high) that contains DP-low and the layers to which PP-adjuncts and relative clauses attach. Both quantitative er and ze are weak pronouns that, like all weak pronouns, move to the left-hand part of the middle field. This analysis explains the parallel syntactic distribution of quantitative er and ze and the differences in modifiability of the two pronouns. New evidence for the claim that quantitative er involves pronominalization, not ellipsis, comes from the obligatory lack of gender agreement between the nominal group and the relative pronoun in an asso-ciated relative clause. New evidence for the parallel analysis of er and ze comes from optional haplology when there are two instances of quantitative ze in one clause.
More

Less

Abstract

Multimodal expressions of obviousness. An empirical corpus study

This article presents a multimodal study of the expressions of obviousness in spoken Dutch. Natural conversations between two participants were studied to present an overview of the verbal and non-verbal elements that express obviousness and their interplay. Markers of obviousness are verbal elements like dus, ja, natuurlijk, gewoon and allee as well as generic and deliberately unfinished utterances (cases of so-called 'aposiopesis'), but also co-speech gestures like the opening of the hand(s), the tilt, the shoulder shrug, raising of the eyebrows and the headshake. The interplay of these markers was studied to answer the question whether one can speak of multimodal constructions of obviousness. The study reveals intriguing multimodal co-occurrences: certain verbal elements and gestures are often used together to express the interlocutor's stance.
More

Less

Abstract

In the Dutch used by Moroccan heritage youth one often encounters Moroccan Arabic and Berber function words inserted in otherwise Dutch discourse. This article studies a subset of these function words within the internet forum chaima.nl, a forum geared towards adolescent girls and young women of Moroccan descent in the Netherlands and Flanders. It aims to show that one major function of the insertion of these function words is to key the utterance as (self-)ironic and not-too-serious.
More

Less

Abstract

Detecting salient features: in defence of a multidimensional approach

This paper addresses the question how salience, i.e. the perceptual and cognitive prominence of language features (Kerswill & Williams 2002: 63), can be studied and explained. Within language change studies, the concept of salience is often called upon to explain why certain language features are more prone to change than others, but empirical data to substantiate claims of salience are often lacking or non-convincing. In this paper, an overview is offered of ways in which salience can be studied empirically, building on the insights of recent perceptual dialectological research. It will be argued that a combination of techniques should be strived at, as this allows to combine the strengths of each approach. Subsequently, by offering an overview of existing hypotheses, the question will be addressed how salience can be explained. The formulated insights will be illustrated and tested by means of a multimethodological salience experiment conducted in Flanders. This case study clearly shows (1) the advantage of an approach combining dialect imitation data and several types of interview data and (2) that salience is influenced by a variety of factors, such as the linguistic background of the listener and the context in which the feature occurs.
More

Less

Abstract

The word licht 'light', meaning not heavy, can be used as an intensifier (adverb of degree). As such it is unique, because it can function both as a a downtoner and an amplifier. In the latter function it combines with (weak) modal expressions, in particular with modal infinitive constructions like te begrijpen 'to understand' and with adjectives with the suffix –baar, like ontvlambaar 'inflammable'. In combination with other adjectives and verbal expressions it functions as a downtoner. These two possibilities are due to the polysemy of licht.