Volume 26, Issue 3, 2021
Nederlandse Taalkunde

- Volume 26, Issue 3, 2021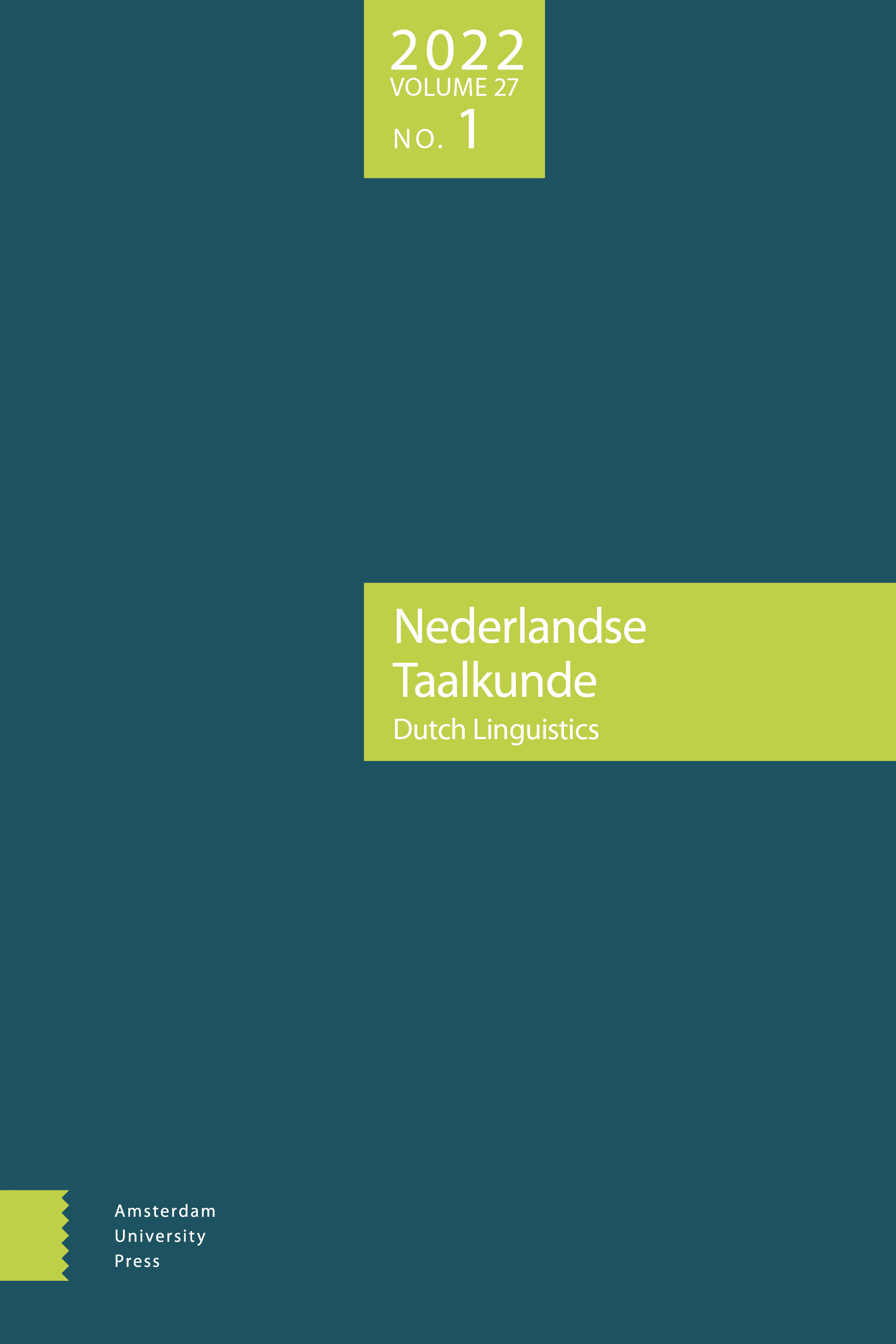 Language: English
More

Less

Abstract

In Moroccan Dutch, /s/ has been claimed to be pronounced as retracted [s] (towards /ʃ/) in certain consonant clusters. Recently, retracted s-pronunciation has also been attested in endogenous Dutch. We tested empirically whether Moroccan Dutch [s] is indeed more retracted than endogenous Dutch [s] in relevant clusters. Additionally, we tested whether the inter-speaker variation of /s/ is smaller between Moroccan Dutch speakers than between endogenous Dutch speakers, as expected if retraction of /s/ would be used as identity marker in in-group conversations in Moroccan Dutch. The [s] realizations of 21 young, male Moroccan Dutch and 21 endogenous Dutch speakers were analyzed. Analyses of the spectral centre of gravity (CoG) show that both groups of speakers had more retracted pronunciations of [s] in typically retracting contexts than in typically non-retracting contexts. However, Moroccan Dutch speakers had higher CoG in both contexts than endogenous Dutch speakers, refuting the stronger retraction expected in Moroccan Dutch speakers. The inter-speaker variation was larger between Moroccan Dutch speakers than between endogenous-Dutch speakers, refuting the expected usage of /s/ retraction as a group identity marker.
More

Less

Abstract

In this article, we present a new corpus spanning 163 years of written Dutch. This Dutch Corpus of Contemporary and late Modern Periodicals (Dutch C-CLAMP) comprises 47,738 part-of-speech tagged articles published in Dutch periodicals from 1837 until 1999, totaling approximately 200 million tokens in size. We explain the measures we took to overcome the shortcomings of existing corpora of historical Dutch covering the same period. We provide a detailed description of how the corpus has been compiled and enriched. Several aspects are covered: text-markup, preprocessing of the data, including foreign language recognition and spelling normalization, and the enrichment of both textual data as well as metadata of the authors of the corpus files. We also carry out two case studies to illustrate the reliability of the corpus.
More

Less

Abstract

This paper examines the online spread of non-standard Dutch in an unexplored communicative setting, i.e. complaint management on corporate Facebook pages. Based on a self-compiled corpus of consumer-company interactions taken from 6 corporate Facebook pages, we investigate to what extent typical features of informal social media communication spill over into more sensitive contexts of complaint management. We do so by mapping the presence and frequency of 27 Flemish old vernacular and 13 new vernacular features (cf. Androutsopoulos 2011) in consumer-initiated posts, company replies and consumer-to-consumer interactions. The results show that some, though not all, new vernacular features occur relatively frequently in both consumer and company messages. Consumers predominantly use new vernacular features for expressive compensation, while companies appear to incorporate them in their webcare (especially emoji and English insertions) as functional operationalisations of conversational human voice (Kelleher 2009) and to support their desired brand identity. In contrast, old vernacular features rarely occur in the dataset. This suggests a different status of old and new vernacular features, where the former are deemed less appropriate or more limited in terms of functionality in this communicative setting. Despite the often informal register of the consumer messages, Standard Dutch still seems the preferred or safer option for company-addressed posts while companies, too, cling to Standard Dutch as the benchmark for professional written communication in this online context.
More

Less

Abstract

This paper discusses two binominal soort-constructions: twee typen subject 'two types of subject' and twee typen subjecten 'two types of subjects'. The choice between singular or plural subject(en) is contextually determined and reflects a difference in meaning of the second noun. The combination of a plural first noun and a singular second count noun is infrequent, due to the special interpretation assigned to the singular noun.