Volume 21, Issue 2, 2016
KWALON

- Volume 21, Issue 2, 2016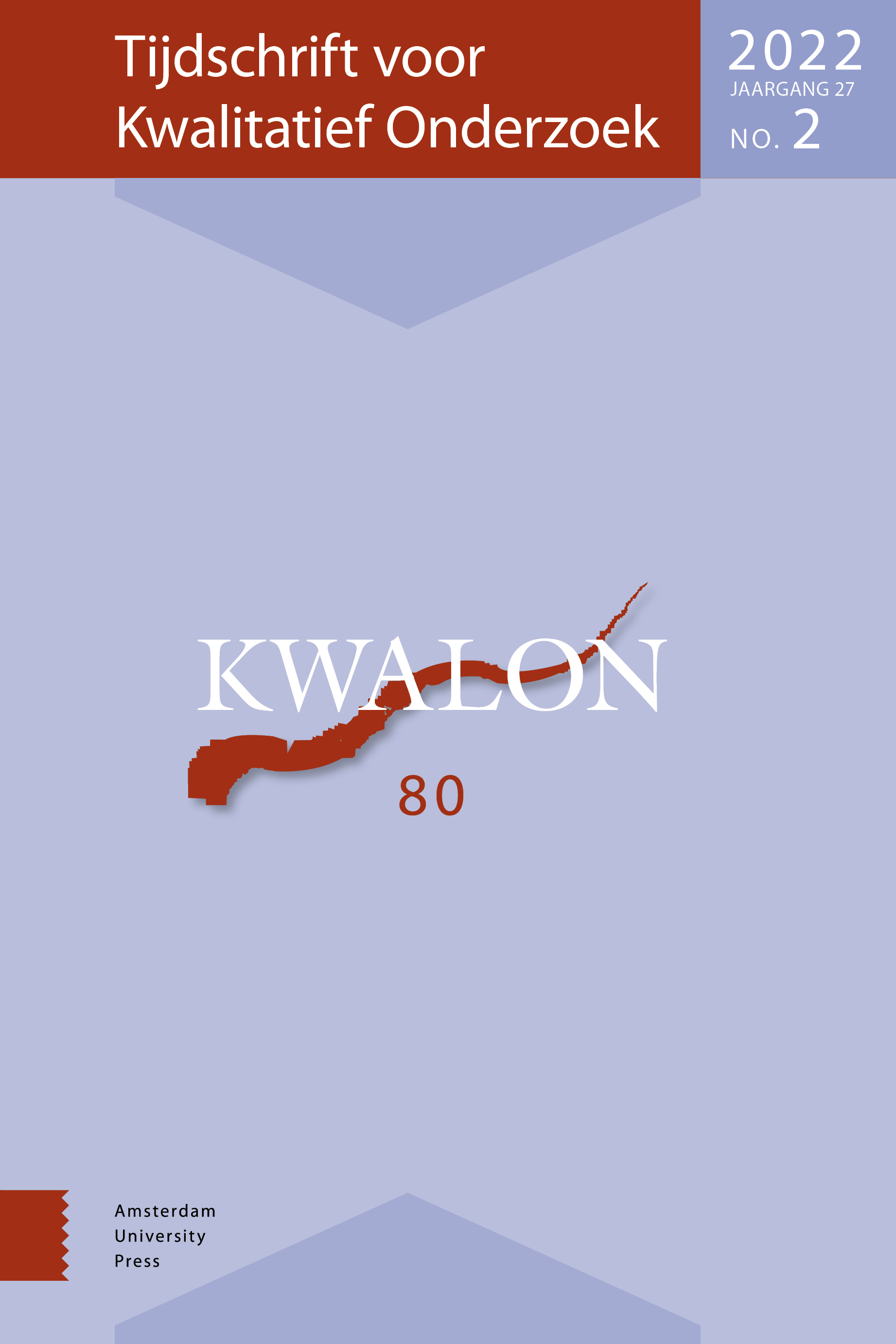 Language: Dutch
More

Less

Qualitative research in the business domain: often a deductive approach is to be preferred

This position paper discusses deductive versus inductive analysis approaches to qualitative research in the business domain. It is argued that generally a deductive approach is to be preferred, because in a deductive approach use can be made of all prior academic knowledge, which is often substantial. As a consequence, outcome-based recommendations may be of higher quality to the client, and be of more practical use.
More

Less

Combining an inductive and deductive approach is the most adequate to get good recommendations

Groenland and Lawson are criticized because they defend a deductive approach. In addition examples of research in which deductive and inductive approaches are successfully combined are discussed. Finally the Charmaz version of the grounded theory approach is interpreted as such a combination.
More

Less

In a column a journal editor or an author expresses his or her opinion on a particular subject.
More

Less

The anthropologist as jester?

Anthropologists adhere to the ideal of blending in their fieldwork environment, denoted as 'glass presence' or becoming a 'nobody'. Yet, in reality they stand markedly out from their informants. Anthropologists more often than not elicit laughter and humorous joking, to make familiar what is strange. The essay argues that this resembles the role of the court jester, and it advocates making our students more aware of it as part of their reflexive training.
More

Less

Below the surface of everyday care (Part II): Working with the underwater screen in the analysis of research on interaction between lvb youth and their caregivers

In our qualitative research project we look at the everyday interaction between young people with a mild intellectual disability and their caregivers, and we are interested in the institutional impact on the everyday dealings. We have developed an analysis tool that helps identify these institutional influences. In addition, we have used the research methodology Institutional Ethnography. This tool also offers opportunities for other areas of research, because it sensitizes the researchers for the ruling relations that shape the everyday interaction between people. In Part 1 of this article (KWALON 2015, 3), we describe the development of our underwater screen. In this article (Part 2), we discuss the operation of the instrument.
More

Less

The Imitation Game as a 'tin opener': practice experiences with patients with an eating disorder and their therapists

In this article the Imitation Game is introduced as a new qualitative research method. The Imitation Game method allows for an investigation into the extent to which various social and cultural groups are able to develop insights into each other's lifeworld. I explain the procedure and application of the method on the basis of an example. The pilot study shows that the Imitation Game forms an interesting addition to the existing repertoire of qualitative research methods.
More

Less

In this contribution the author reviews Het hart van de wetenschap: Over de waarde van veldwerk by Henk Driessen (ed.).
More

Less

Als kwalitatieve onderzoeksstrategie kent veldwerk vele variaties in verschillende wetenschappelijke disciplines zoals geologie, archeologie, klimatologie, ethologie, taalkunde of volkskunde. Wat die vele gezichten met elkaar als familiegelijkenis delen, is het persoonlijk verzamelen van gegevens in een 'natuurlijke' omgeving, veelal gedurende meerdere maanden en zelfs jaren, en deze data verwerken en analyseren. Veldwerk is bij voorkeur slow science en biedt een tegengif voor een eenzijdige statistische benadering van de werkelijkheid. Zoals bij alle onderzoeksmethoden en technieken wordt het begrip veldwerk te pas en onpas gebruikt en geclaimd. Zo is een excursie van studenten van Inholland naar Marokko en een bezoek aan het Nederlands Instituut Marokko géén veldwerk en evenmin het afnemen van enkele interviews in Saoedi-Arabië. Reizen voor onderzoek en veldwerk zijn zeker geen synoniem.
More

Less

De afwijkende visie van de redacteur over het patent is gelegen in semantische verwarring in meerdere opzichten. Ten eerste het onderscheid tussen uitvinder en oorsprong enerzijds en patentrecht anderzijds. Met patent wordt het alleenrecht van de uitvinder om de uitvinding te exploiteren bedoeld. Een belangrijke nuance is dan ook dat er in de recensie wordt gesproken over blijvend patent. Het woord etnografie stamt van het Griekse ethnos (volkeren of bevolkingsgroepen) en graphein (schrijven). Het 'beschrijven van volkeren' vindt zijn oorsprong inderdaad in de antropologie, iets wat in de recensie allerminst betwist werd (zie supra). De van oorsprong antropologische etnografie wordt echter al meer dan honderd jaar ook door andere wetenschapsdisciplines gebruikt. Voor de toepassing van de etnografie binnen de sociale wetenschappen werd etnografisch onderzoek ge(her)definieerd als 'the study of groups of people in their natural setting, typically involving the researcher being present for extended periods of time in order to collect data systematically about their daily activities and the meanings they attach to them' (Noaks & Wincup, 2004: 93). De betekenis van etnografie binnen de sociale wetenschappen wijkt dus af van die in de klassieke antropologische literatuur. Deze definitie en de plaats die veldwerk daarin heeft is bovendien niet onbesproken. De methodologische literatuur wijst op de ambiguïteit van de definitie van etnografie (Noaks & Wincup, 2004: 92). Volgens Hammersley en Atkinson (1995: 2) is deze conceptuele onduidelijkheid te wijten aan haar 'noodzakelijk diffuse grenzen' en bestaat er binnen de sociale wetenschappen geen duidelijk onderscheid tussen etnografie en ander kwalitatief onderzoek. Deze onduidelijkheid wordt verder in de hand gewerkt door een aantal mythes en misverstanden. Etnografie wordt bijvoorbeeld vaak onterecht als synoniem van participerende observatie of veldwerk gebruikt (Noaks & Wincup, 2004: 92). Etnografie is geen dataverzamelingstechniek, maar een methodologische benadering of onderzoeksstrategie die gebruikmaakt van verschillende (gecombineerde) dataverzamelingstechnieken en onderzoeksmethoden, zoals (participerende) observatie, open interviews en discoursanalyse. In de meeste onderzoeken waar veldwerk wordt verricht, is langdurige participerende observatie echter wel de belangrijkste onderzoekstechniek (p. 8 van de bundel). Veldwerk vormt dus een substantieel onderdeel van de etnografische onderzoekstraditie.
More

Less

In this contribution the author reviews Tussen fout en fraude: Integriteit en oneerlijk gedrag in wetenschappelijk onderzoek by K. Schuijt.
More

Less

In this contribution the author reviews Introduction to social research: Quantitative & qualitative approaches by Keith F. Punch.
More

Less

In this contribution the author reviews Doing action research in your own organization by D. Coghlan & T. Brannick.
More

Less

In this contribution the author reviews Power and organizations by S.R. Clegg & M. Haugaard (eds.).
More

Less

In this contribution the author reviews Abductive analysis: Theorizing qualitative research by Iddo Tavory & Stefan Timmermans.
More

Less

Het is een enorm genoegen om te reageren op de boekrecensie van Harrie Jansen (HJ). Na een gedetailleerde en nauwkeurige samenvatting van ons betoog, benadrukt HJ een paar punten van kritiek: is abductieve analyse niets meer dan grounded theory doordrenkt in een uitgebreid literatuuronderzoek? En wordt abductieve analyse beperkt tot kwalitatief onderzoek of past abductie ook binnen kwantitatief onderzoek en 'life sciences'?
More

Less

Stefan Timmermans geeft in zijn heldere reactie antwoord op mijn vraag wat AA uiteindelijk toevoegt aan of anders/beter doet dan GT en ook op mijn vraag over de beperking van AA tot interpretatief onderzoek. Bij de beantwoording van deze laatste vraag maakt hij een onderscheid tussen enerzijds abductief denken (dat universeel in gebruik is voor de ontwikkeling van nieuwe inzichten, binnen en buiten de wetenschap) en anderzijds de abductieve analyse, die specifiek ontwikkeld is voor toepassing in interpretatief onderzoek. Echter, volgens de definitie van abductie zoals ik die eerder citeerde in de recensie, gaat het in de kern van de zaak om een systematische analyse van diversiteit in een iteratieve confrontatie van empirisch materiaal met een breed scala aan theorieën. Deze definitie van abductie legt geen beperking op aan het soort empirisch materiaal waarop AA van toepassing is. Vandaar mijn vraag naar een peirceiaanse classificatie van wetenschappen die wellicht zou kunnen voorzien in zo'n begrenzing van het toepassingsgebied. Die vraag is onbeantwoord gebleven.