Issue Home
Internationale Neerlandistiek

- Current Issue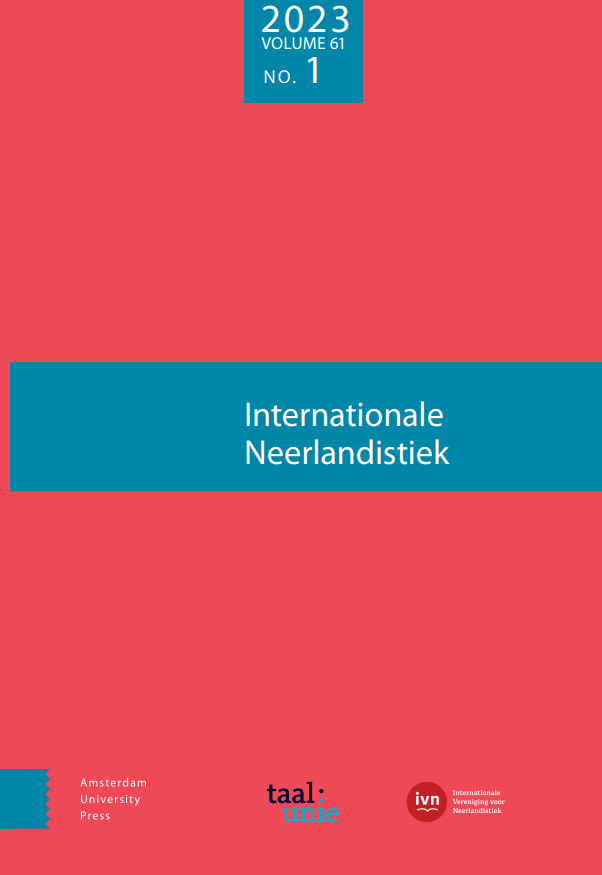 More

Less

Abstract (English)

This paper begins by considering the relationship between the textbook and the curriculum and takes the view that both articulate a particular view of the social order and that they cannot be viewed in isolation from the broader socio-political and economic contexts from which they emerge. This is followed by an overview of the way in which the materials literature has developed in Applied Linguistics – from a teacher focused activity concerned with evaluation and selection to a view of the textbook as a cultural artefact designed to make language(s) mean in particular ways. Having surveyed the terrain, the paper then turns to recent calls to decolonise the foreign language curriculum, the case against monolingual pedagogy and the need for greater inclusivity particularly with regard to LGBTQ+ representation. In the light of these arguments, the paper considers how language textbook research might develop in the future.
More

Less

Abstract (English)

Textbooks constitute important learning tools in foreign language education and should depict ethnic and gender diversity (UNESCO, 2017). This paper responds to calls for intersectional textbook research and addresses the following question: How diverse are representations of wo/men of colour and white wo/men in Dutch language and culture textbooks? We performed content analysis of six frequently used textbooks for learning Dutch, examining pictures, texts and (audio-recorded) dialogues. Results show an underrepresentation of people of colour (PoC) in comparison to demographic statistics. PoC are featured in a limited range of low-status roles, countries and cities are Euro- and Netherlands centric, and there is little variety in terms of accented speech in dialogues. In addition, non-native speakers utter sentences that frame them as dependent. An exception to these tendencies is the textbook Contact 1 (2019), which presents alternative, more inclusive 'realities'. Our paper builds on the body of (Anglocentric) textbook research from a cultural studies' perspective, helps determine the degree to which educational materials meet diversity demands in language education policies, and discusses what alternative 'realities' could arise in Dutch textbooks.
More

Less

Abstract (English)

Papiamentu/o, one of two official Caribbean Creole languages, is the language of Aruba and Curaçao alongside Dutch and English. Although Papiamentu/o is regarded as an important identity marker among its speakers, many consider it less suitable than Dutch for use in formal education. This paper investigates the ways in which the socialization of ideas concerning language, language use, and the construction of identity occurs through formal education on Aruba and Curaçao. Drawing on anthropological work on language socialization and translanguaging, I consider how longstanding ideas about Papiamentu/o, Dutch, Spanish, and English are perpetuated through teacher-to-student and peer-to-peer socialization in secondary schools. I therefore analyze in three classroom interactions how students use different languages to assert their needs in the classroom. This paper contributes to a better understanding of how Aruban and Curaçaoan teachers and pupils assert and contest ideas of appropriate language use, (re-)imagine their national identities, and (re-)create boundaries of community belonging.
More

Less

Abstract (English)

This study provides insights into the experiences, attitudes, and language practices of adult Dutch as Second Language (L2) learners in the Netherlands with regards to diversity in the classroom. Based on interviews and classroom-recordings generated during three months of linguistic ethnographic fieldwork in two L2 Dutch courses, this paper examines the ways in which learners make diversity relevant in interactions with classmates. Findings suggest that learners sometimes use essentialist discourse, but also find ways to challenge such simplifying discourse and often highlight their diversity as a unifying element. The study provides valuable information for L2 teachers and teacher trainers, as well as textbook authors, to approach the goal of intercultural learning and inclusive L2 Dutch education.