Tijdschrift voor Historische Geografie
Tijdschrift voor Historische Geografie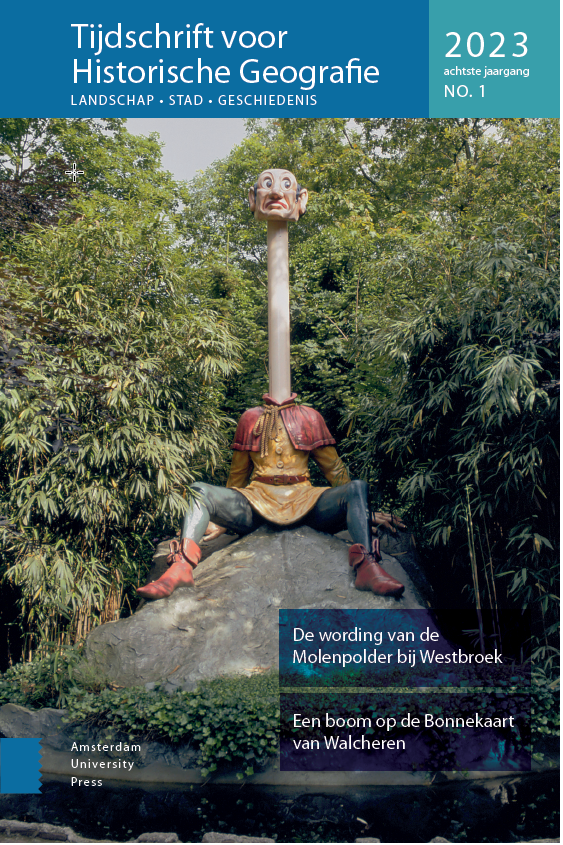 Het Tijdschrift voor Historische Geografie (THG) is hét vaktijdschrift over de geschiedenis van het Nederlandse cultuurlandschap, inclusief de steden. Het  is rijk geïllustreerd met kaarten, foto's, prenten en schilderijen. THG biedt een podium aan zowel jonge als ervaren auteurs die onderzoek doen naar de historisch-ruimtelijke ontwikkeling van stad en land. Daarnaast signaleert het tijdschrift door middel van vaste literatuur- en berichtenrubrieken actuele ontwikkelingen, zowel binnen de historische geografie als op het snijvlak met aanpalende vakgebieden zoals de stedenbouw- en architectuurgeschiedenis, de archeologie en de planologie. Meer over THG...

---
Tijdschrift voor Historische Geografie
(THG) is the leading journal on the history of Dutch cultural landscapes, including urban areas. The publication is richly illustrated with maps, photos, prints and paintings. THG offers a stage to both young as well as experienced authors who carry out research on the historical-spatial development of provincial and urban areas. In periodic literary and commentary sections, the journal also traces current developments in the field of historical geography and its intersection with related fields such as urban studies, the history of archeology, archeology and regional planning.
More about THG...
Editors: 
Jaap Evert Abrahamse, Henk Baas, Sonja Barends, Thomas van den Brink (editorial office), Linde Egberts, Marcel IJsselstijn, Menne Kosian, Hans Renes, Ingwer Walsweer.