Volume 74, Issue 2, 2022
Taal en Tongval

- Volume 74, Issue 2, 2022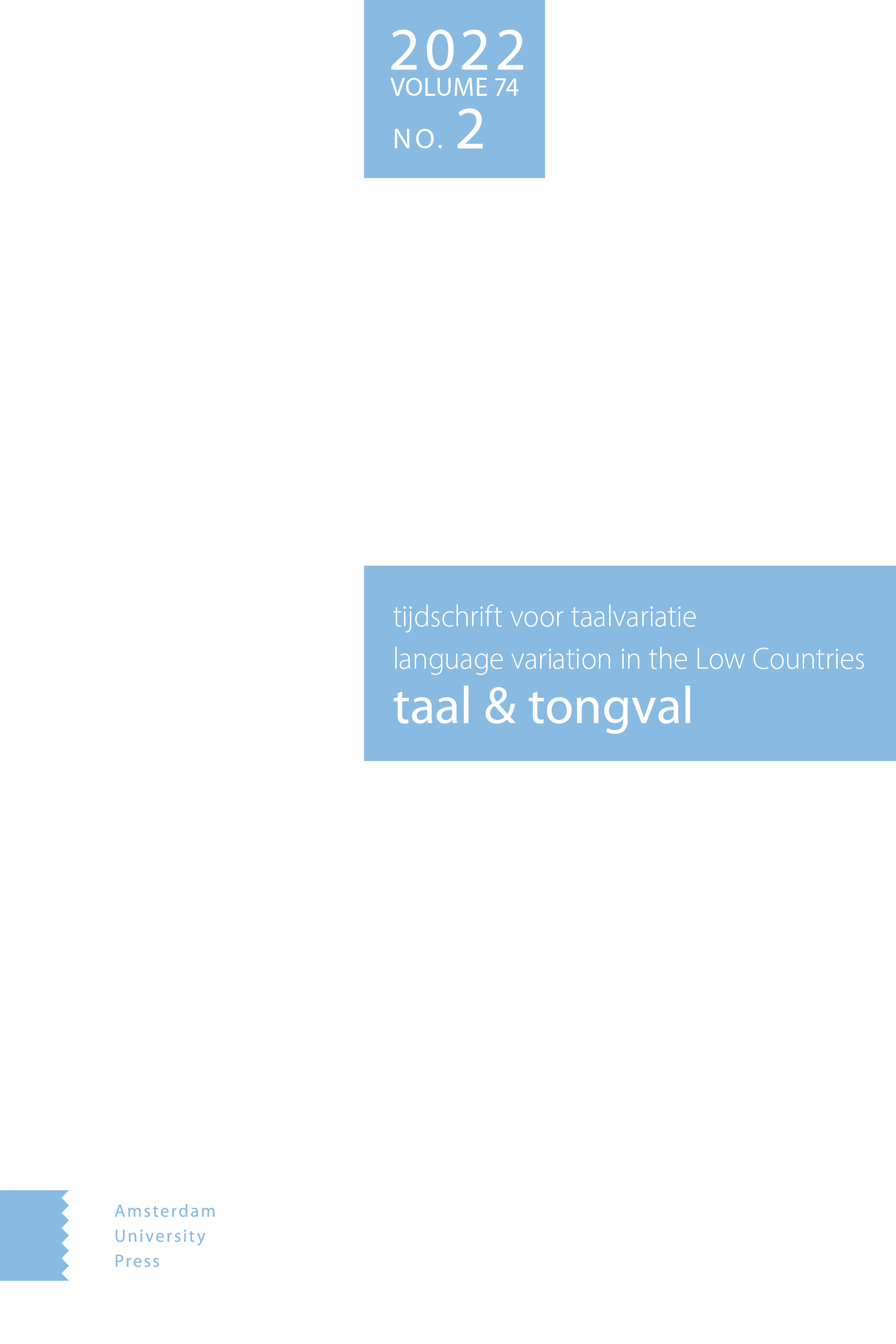 More

Less

Abstract

The present paper revisits Neuckermans's (2008) proposal concerning the geographic distribution and diachronic genesis of different functions of the particle en, a remnant of Jespersen's Cycle in the Southern Dutch dialects, and addresses van der Auwera's (2009) claim that en may in some dialects of Dutch have developed into a non-negative marker of clausal subordination at the end of the cycle. Based on a 400,000-word corpus of spontaneous dialect speech data from 65 locations in the southern Dutch dialect area (with an emphasis on West and East Flemish ones) as well as on historical data from the literature, it is concluded that Neuckermans's implicational hierarchy (a) needs to be revised and (b) cannot not be a reflex of a diachronic retraction scenario, and that (c) an analysis of non-negative en as a marker of subordination as proposed by van der Auwera cannot be confirmed for the Southern Dutch dialects more generally. Instead, it is argued that the observable distribution points to the synchronic coexistence of several layers of change that have affected en since Middle Dutch, and have led to it having become co-opted as a mirative strategy.
More

Less

Abstract

This article reports investigations into sound change at the community-level of Frisian and Low Saxon dialect groups in the north of the Netherlands, which differ in key factors influencing dialect decline. We combine phonetically transcribed corpora with dialectometric approaches that can quantify change among older male dialect speakers in a real-time framework. A multidimensional variant of the Levenshtein distance, combined with methods that induce realistic distances between sounds, is used to estimate how much dialect groups converged to and diverged from Standard Dutch between 1990 and 2010. Our analyses indicate that sound change is a slow process in this geographical area. The Frisian and North Low Saxon dialect groups seem to be most stable, while Westphalian Low Saxon varieties seem to be most prone to change. We offer possible explanations for our findings and discuss shortcomings of the data and approach in detail.
More

Less

Abstract

The present study deals with levelling processes in the traditional Austrian dialects – on the one hand inter-dialectal levelling (= the reduction of variation between dialects), and on the other hand intra-dialectal levelling (= the reduction of variation within one dialect). The interplay of both processes is analysed for the realizations of postvocalic r (= variable (r)). Although a complex variability is stated for (r) – which is also relevant for Austrian dialect classification – there are no recent studies on (r). This desideratum is addressed in the present article by investigating data of 163 speakers from 40 localities. In doing so, 7,951 realizations of (r) in 50 lexical items are analysed. Based on a real- and apparent-time design the study reveals a significant spread of vocalized forms resulting in both inter- and intra-dialectal levelling. In the article, the interplay of both processes is discussed. This includes also their origins (horizontal and vertical contact) and developments (e.g. lexical diffusion).