Volume 24, Issue 2, 2019
Nederlandse Taalkunde

- Volume 24, Issue 2, 2019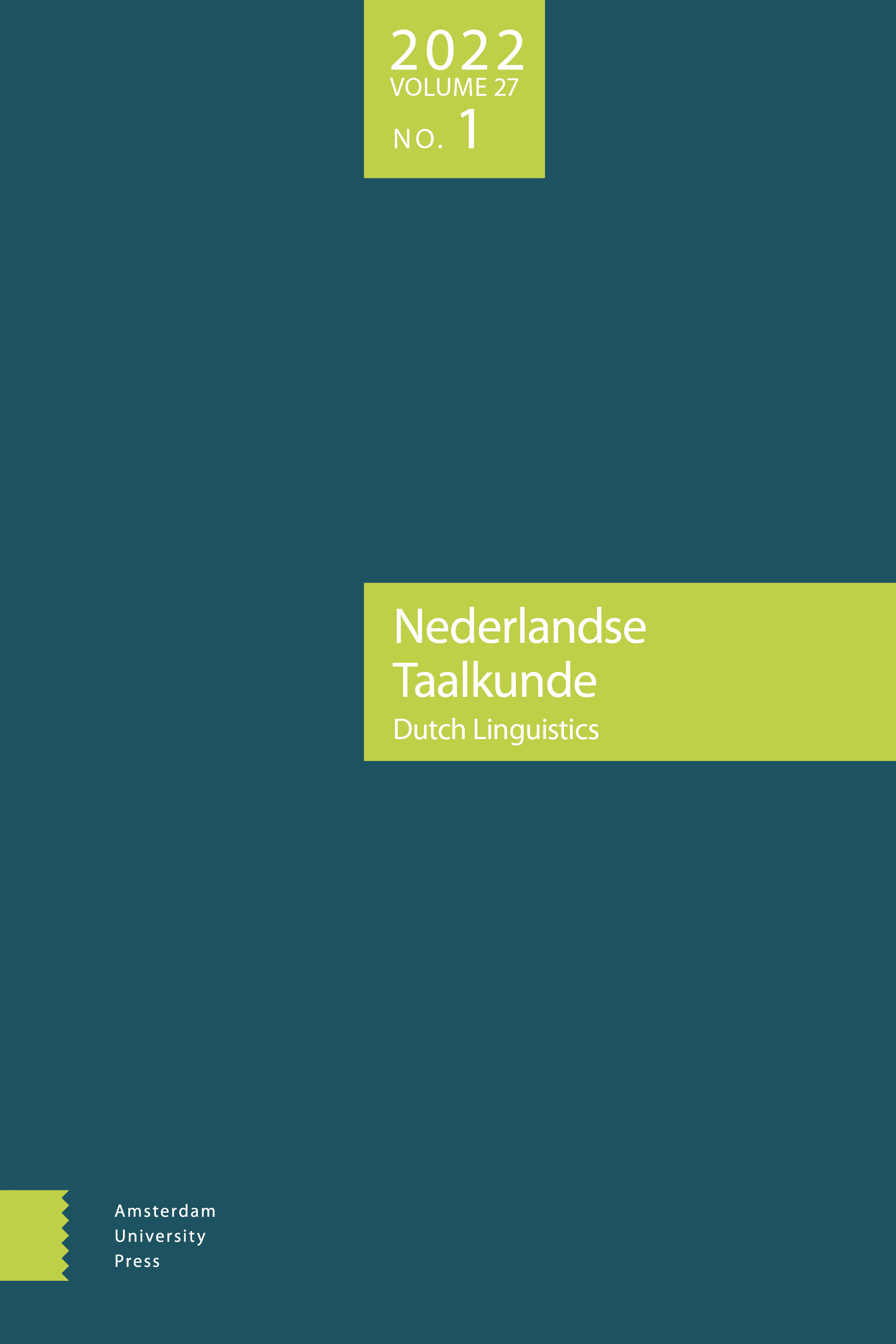 Language: English
More

Less

Abstract

The present paper presents a corpus-based analysis of a construction that has not been studied thoroughly yet, viz. the Dutch comparative correlative (e.g. hoe eerder, hoe beter het is; hoe eerder, des te beter het is 'the sooner, the better it is'). Contrary to previous literature, this paper gives a more comprehensive description of the form and use of the comparative correlative. It shows, for instance, that there is a notable preference for verb-final word order in the second part of the hoe… hoe… construction, while hoe… des te… seems compatible with both verb-second and verb-final word order. In addition, genre differences are attested, as well as differences between the Netherlands and Belgium, e.g. in the use of conjunctions within the construction.
More

Less

Abstract

The linguistic expression of aspectuality poses a challenge for linguistic research of Dutch, because the language does not have a grammaticalized means of expression exclusively for this purpose. Instead, its expression appears to be highly diffuse. This study investigates the expression of one type of aspectuality in Dutch, namely durative aspect, which is highly grammaticalized in Mandarin Chinese. Through the method of parallel text analysis, this feature of Mandarin is employed instrumentally in mapping out the expression of durative aspect in Dutch both quantitatively and qualitatively, in terms of Construction Grammar. Theoretical and methodological considerations are also explored: it is proposed that the present method is best termed heuristic parallel analysis, differentiating it from conceptual parallel approaches; and it is argued that a quantitative overview should be complemented by a qualitative component. Finally, the results – expressional categories notated as (partially) schematic constructions – are compared with existing models, specifically that of the Algemene Nederlandse Spraakkunst (ANS), concluding that the durativity of posture constructions, the perfect, and pluractionality should be integrated into its account.
More

Less

Abstract

This paper reports on an explorative sociophonetic study of the phoneme /s/ in the Dutch language area. Our aim is to investigate the regional variation in the realisation of this phoneme, and to test experimentally the observation of Collins & Mees (2003) that /s/ is sometimes pronounced more like [ ʃ ], especially in the Randstad area (called s-retraction). One hundred native speakers of Dutch produced nineteen monosyllabic words containing /s/ in different syllabic contexts. The speakers were born and raised in one of five regions of the Dutch language area (West Flanders, Flemish Brabant, Netherlands Limburg, South Holland and Groningen). Spectral centre of gravity (CoG) and duration were used to measure the degree of s-retraction. CoG values turned out to be significantly lower (consistent with more retraction) in the regions in The Netherlands than in the Flemish regions. Speakers from South Holland produced significantly shorter /s/ than the other speakers. In conclusion, /s/ shows patterns of regional variation that are not fully in line with the observation forwarded by Collins & Mees (2003). The difference between the Flemish and Dutch regions shows that s-retraction is found in an area larger than the Randstad, possibly pointing towards a North-South pattern of variation.
More

Less

Abstract

This review article discusses Lotte Dros-Hendriks' PhD thesis Not another book on Verb Raising (2018). A ground-breaking book, as it provides a simple, principled account for the geographical distribution of the various word orders found in so-called 'verb' clusters in the Dutch dialects. It will be shown, however, that the account is based on a number of controversial and insufficiently motivated premises. This article raises a number of potential problems for these premises, which should find a satisfactory solution before we can wholeheartedly adopt the core insights provided by this interesting work.