Volume 24, Issue 3, 2019
Nederlandse Taalkunde

- Volume 24, Issue 3, 2019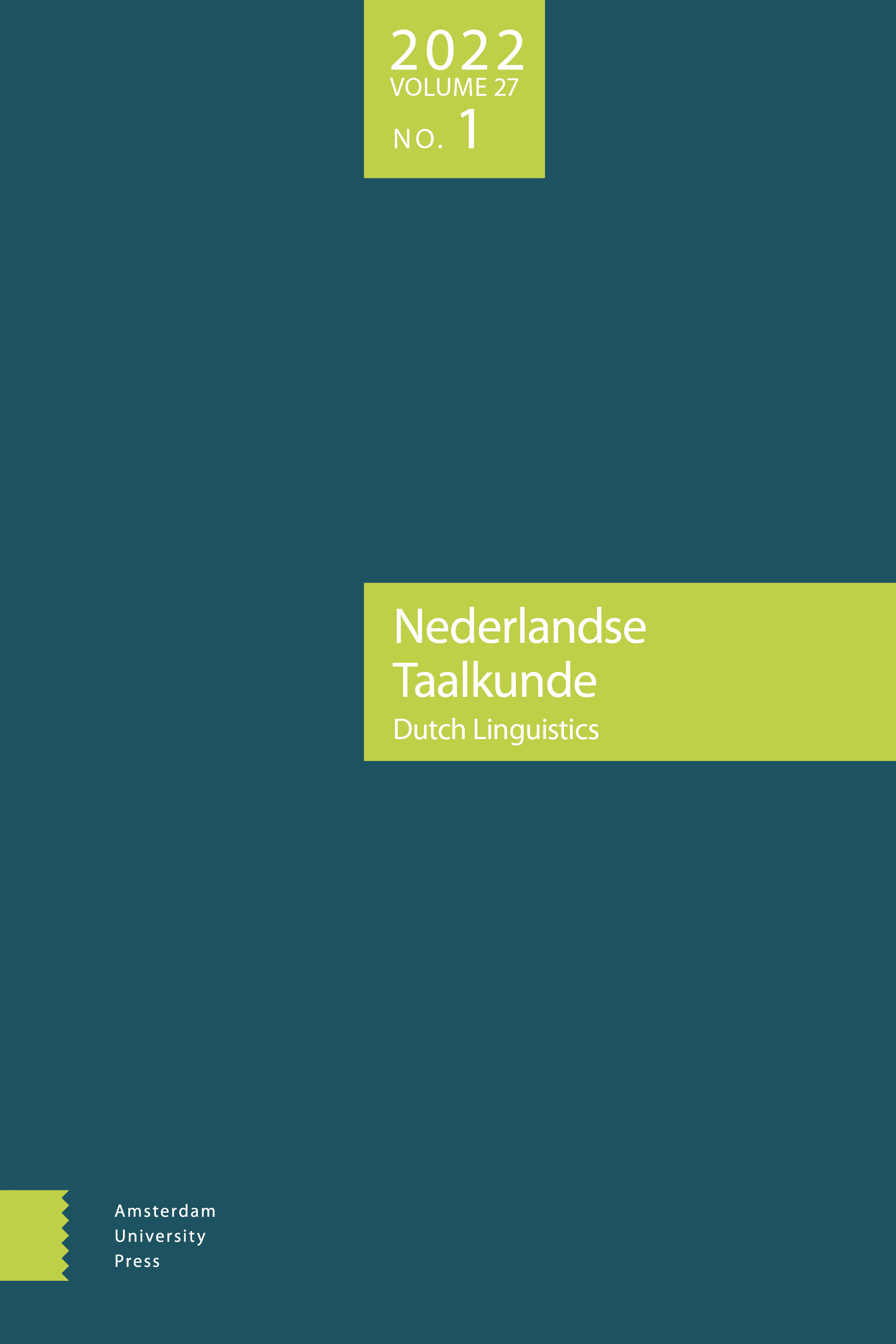 Language: English
More

Less

Abstract

Oppassen geblazen. On formal, semantic and historical aspects of the Dutch geblazen construction

The present study is concerned with the Dutch geblazen-construction (e.g. het is oppassen geblazen 'one should watch out'; literally: 'it is to.watch.out blown'). Its aim is to give the first systematic, usage-based description of the most important formal and semantic, as well as some diachronic aspects of this severely understudied construction. Based on 1,258 instances from the SoNaR-corpus of contemporary written Dutch, the construction's composition, schematicity, and its realized type-productivity (i.e. the number of infinitives combined with geblazen) are described, allowing for a more precise definition of the construction's general meaning. Additional qualitative diachronic corpus data from the DBNL are used to give a plausible explanation of how geblazen 'blown' could have acquired its non-literal, modal reading in this construction. While it is very likely that this reading developed from an earlier metaphorical reading of infinitive + geblazen, this source construction alone cannot explain the attested jump in productivity in the 1950s and the sudden occurrence of the subject and copula het is 'it is' in the construction. This suggests that the geblazen-construction may in fact be a multiple source construction.
More

Less

Abstract

Article omission in Moroccan Flavored Dutch. Bare nouns in monolingual Dutch expressions

The aim of this paper is to shed light on article omission in Moroccan Flavored Dutch (MFD), a language variety in which Moroccan linguistic material (mainly Berber and Arabic) is combined with Dutch. It is well-known that MFD speakers are often inclined to omit articles in nominal phrases, and by doing so expressions contain so-called bare nouns (nominals without articles, i.e. definite or indefinite articles). This raises the question what triggers article omission in MFD. This study focuses on Dutch expressions that are embedded in MFD discourse and provides an innovative explanation for bare noun constructions. In particular, we argue that article omission in MFD is the result of an interplay between identity marking (article omission indexes the belonging to an ethnic subgroup in contrast to outsiders) and information structure. We show that there is a correlation between the syntactic position of a constituent and the type of article (i.e. definite or indefinite) that is omitted. The direct object position yields an indefinite, discourse-new interpretation of the bare nominal phrase. Since the neutral surface order of a Dutch main clause is subject-initial, the direct object position is canonically a focus position that is associated with new information. Therefore, the information structure of Dutch clauses seems to be a trigger for article omission.
More

Less

Abstract

The end of Polder Dutch? De perception of /εi/ and /ai/ in Standard Dutch in the Netherlands.

While most early research on so-called Poldernederlands 'Polder Dutch' (Van Bezooijen 1999; Van Bezooijen & Van den Berg 2001) finds differences in perceptions between this supposedly substandard variety and Standard Dutch, this paper aims to demonstrate that present-day language users do not distinguish between the two varieties (anymore). Two combined matched-guise experiments show that non-linguists are unable to name the variety and that they do not score them differently on a large number of evaluative scales. The results suggest the end of Polder Dutch as a perceptually separate variety, and the absorption of its most marked feature, viz. the lowering of /εi/ to /ai/ into Standard Dutch.
More

Less

Abstract

On rituals and routines in the opening and closing of service encounters in tourism offices in the Netherlands and Flanders

This paper brings a cross-cultural analysis of opening and closing rituals and routines in Dutch and Flemish tourist offices, from a Politeness Theory perspective. On the basis of a corpus of 200 interactions it reveals, apart from some general comparable tendencies, quite different communicative habits in both neighbouring regions. The differences point in the direction of more formal institutional interactions in the Flemish tourist offices in comparison with the Dutch interactions. More specifically, Dutch interactions appear to be less formal, show a higher level of freedom with respect to the organisation of the opening and closing sequences and attach more importance to the relational work between the speech participants.
More

Less

Abstract

The squib investigates the dialectal distribution of the Dutch construction type hetkan/mag/moet, lit. 'it can/may/must', where a modal verb occurs 'independently' with an eventive subject and no infinitival complement. The construction is shown to be widely attested not only in traditional dialects of Dutch, but also in Frisian, Low German, and Afrikaans. We suggest that the construction, which does not occur in standard German or English, is an areal feature shared by the West Germanic vernaculars of northwestern Germany and the Low Countries, including the South African 'side branch' Afrikaans.