Volume 23, Issue 2, 2020
Tijdschrift voor HRM

- Volume 23, Issue 2, 2020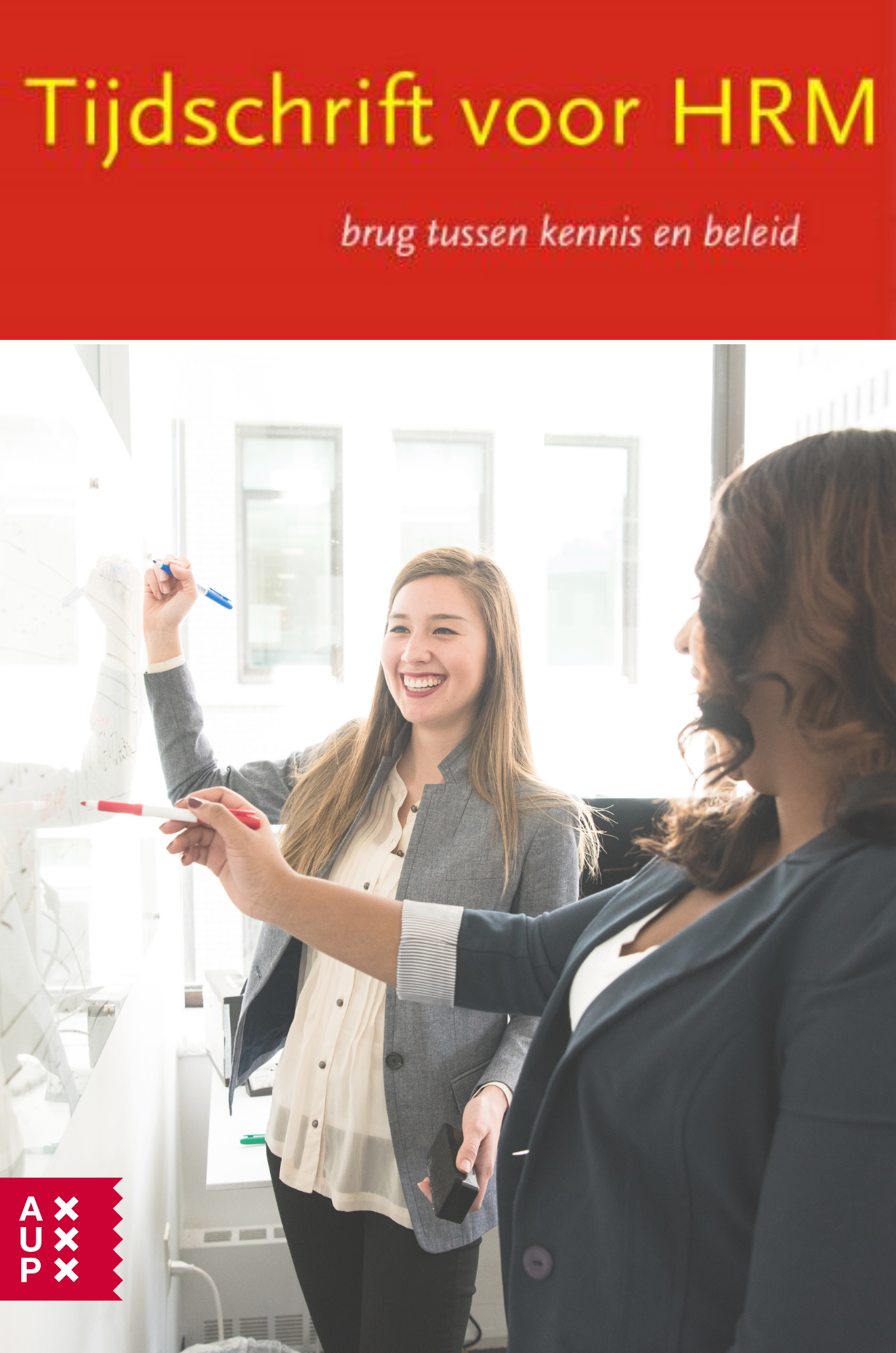 Language: English
More

Less

Economische sectoren als landbouw, transport en industrie staan voor de opgave om te verduurzamen. Deze opgave zorgt voor andere banen en stelt andere eisen aan mensen die werkzaam zijn in deze sectoren. In dit artikel verkennen we de vraagstukken rond werk, vakmanschap en oudere werknemers die ontstaan vanwege deze transitie, en de rol die HR hierin speelt. Om hier inzicht in te krijgen, deden we een jaar lang onderzoek bij een groot industrieel bedrijf, waar we spraken met vakmensen, HR-medewerkers en leidinggevenden over de gevolgen voor het werk van de transitie van grijze naar groene productiemethoden. In deze casus bleek dat de schoksgewijs verlopende transitie het vakmanschap van (oudere) werknemers onder druk zet. De onzekerheid die de transitie voor de komende jaren met zich meebrengt leidt op organisatieniveau tot spanningsvelden. HR zou de eigen rol kunnen invullen door de concretisering van de duurzame productie in de toekomst samen met de werknemers en de leidinggevenden proactief vorm te geven.Economic sectors like agriculture, transport and industry face the challenge to become more sustainable. This challenge impacts the jobs available and changes the skills which people need to work in those sectors. In this article, we explore questions concerning work, craftmanship and older employees which arise because of this transition as well as the potential role of HR in addressing these questions. In order to gain insight in these questions, we conducted research for over a year in a large industrial company, during which we spoke with craftsmen, HR professionals and managers. We spoke with them about the consequences of the transition to more sustainable production methods, now and in the near future. In this case, it became clear that the transition puts pressure on the craftmanship of employees, especially the older employees. The insecurity that emerged as a result of the transition also leads to various tensions on the organizational level. HR could play an important role by proactively shaping the concretization of the envisioned sustainable future of the company together with the craftsmen and the managers.
More

Less

In dit artikel geven we een overzicht van wat er bereikt is op gebied van HRM en Performance onderzoek. Dit doen we aan de hand van de volgende vragen:
• Wat is er nu op dit terrein bereikt sinds de jaren tachtig?
• Welke benaderingswijzen kunnen we onderscheiden?
• De schaduwzijde van HRM en Performance
• Wat zijn de belangrijkste modellen en auteurs in dit verband?
• Hoe kunnen we daar in de praktijk ons voordeel mee doen?
• Wat is de ontwikkeling van het vakgebied in de (nabije) toekomst?
Voor de beantwoording ervan, starten we bij de klassieke benaderingen van HRM in de jaren tachtig, te weten de Harvard en Michigan benadering. In de jaren negentig zien we de opkomst van het empirisch onderzoek, eerst in de USA en daarna in het Verenigd Koninkrijk en vervolgens neemt het empirisch onderzoek in alsmaar geavanceerder vormen een hoge vlucht over de gehele wereld. De voornaamste bevindingen presenteren we in de vorm van de uitkomsten van review studies en meta-analyses. Op basis van een co-citatie analyse kunnen we ook de voornaamste onderzoekers in beeld brengen, inclusief hun netwerken. Met aanbevelingen voor de praktijk en het schetsen van een wenkend perspectief voor toekomstig HRM onderzoek sluiten we af.In this paper, we give an overview of what has been achieved in the domain of HRM and Performance research. Starting from the classic frameworks of Harvard and Michigan, we describe the development towards more empirical research, first in the USA, later in the UK and subsequently a spread across the globe of increasingly more sophisticated research in this area. Based on numerous papers, we are able to present the findings by means of review studies and meta-analyses. The paper also deals with some of the pitfalls in empirical research. Based on a co-citation analysis we are able to present an overview of the main authors in this knowledge domain. With some recommendations for practitioners as well as the future perspectives for HRM research we finalize this paper.
More

Less

In dit artikel kijken we naar trends in generieke maatregelen en maatwerkafspraken (i-deals) voor langer doorwerken en naar ontwikkelingen over tijd in de duurzame inzetbaarheid van werknemers. Hierbij gaan we specifiek in op verschillen tussen werkgevers op basis van vestigingsgrootte, profit of non-profit, de aan- of afwezigheid van een brancheorganisatie en sector (financiële instellingen, gezondheid & welzijn en horeca). We doen dit op basis van data van de Werkgevers Enquête Arbeidsomstandigheden (WEA) en de Nationale Enquête Arbeidsomstandigheden voor werknemers (NEA). Uit de resultaten blijkt dat werkgevers nog altijd meer ontziemaatregelen treffen dan stimuleringsmaatregelen en dat het gebruik van maatwerkafspraken toeneemt. Grote bedrijven, non-profit bedrijven en bedrijven die zijn aangesloten bij een brancheorganisatie treffen vaker maatregelen voor langer doorwerken. Daarnaast zien we bij werknemers een positieve trend in indicatoren voor duurzame inzetbaarheid, te weten de leeftijd tot waarop men wil en denkt te kunnen doorwerken en de inschatting van de eigen arbeidsmarktpositie. Dit kan deels een effect zijn van de maatregelen die werkgevers getroffen hebben, maar zal ook voor een groot deel te danken zijn aan conjunctuur en wetgeving. In this article, we describe trends in measures taken by employers to stimulate a prolonged work participation as well as trends in sustainable employability of employees. We elaborate on differences in company size, profit versus non-profit, the presence of a branch organisation, and sector (financial sector, health & welfare and the catering industry). We analysed data from the Netherlands Employers Work Survey and from the Netherlands Working Conditions Survey. The results show that employers more often take protective measures than incentive measures. Furthermore, the use of idiosyncratic employment arrangements (i-deals) is increasing. Large companies, non-profit companies and companies associated with a branch organisation take more measures. In addition, we observed a positive change in indicators of sustainable employability among workers. This may partly be caused by measures taken by employers, but will also be due to a favourable economic climate and to national legislation.