Volume 37, Issue 1, 2017
Pedagogiek

- Volume 37, Issue 1, 2017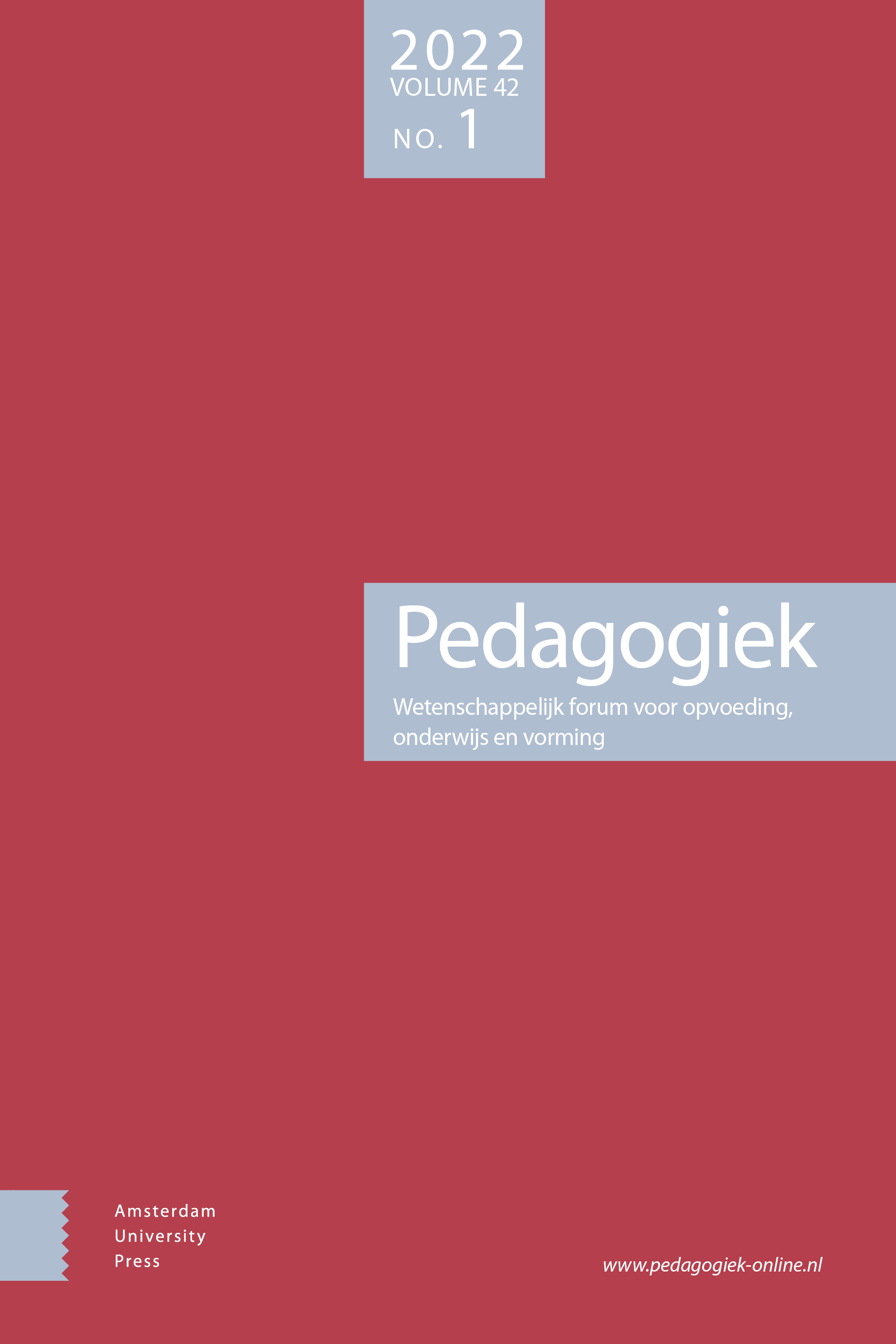 Language: English
More

Less

Abstract

Sandwich pastrami: Parenting in times of crisis

The Mulock Houwer Lecture 2016 focuses on parenting in times of war. Mulock Houwer (1903-1985) was a renowned pioneer in youth care and child protection. He came to the Netherlands during the First World War as an unaccompanied minor refugee. Through the Second World War, he was a father of four children and the director of the youth institution where he found refuge as an orphan. Building on Mulock Houwer's experiences as a child, as a father, and as a child protector, Carla van Os reflects on the needs of children living in and after war situations, as well as which characteristics of parents help to protect the positive development of children during such difficult rearing circumstances. Based on research of people living in current and post war situations, the following subjects are discussed: the impact of refugee parents' fear and depression on the mental health of the children; attachment behaviour in refugee families; and the need for continuity, stability, and an as-normal-as-possible life in the host country.
More

Less

Abstract

The strength of ordinary parenthood. Promoting life skills of parents

Parental life skills are proven to have a positive effect on parents' well-being and on the development of their children. Recent developments in Dutch youth policies are more demanding of parents' own strength and with that of their life skills. It is therefore important to determine which life skills or "21st century skills" parents indicate to require to strengthen their parenthood. Subsequently, professionals working with parents can connect their interventions to this. The aim of this study was to assess whether, according to parents, life skills effectively contribute to strengthen them. Semi structured interviews were conducted among 110 parents (74 mothers, 36 fathers) in different stages of parenthood, from pregnancy until the child moves out. Questions in the interview covered the five life skills: self- awareness, self- management, social awareness, relationship skills and responsible decision- making. Parents indicated a preference to develop themselves in dealing with stressful situations in the parental workplace and planning of tasks (self-management), dealing with conflicts and effective communication (relational skills), and making the right decisions for their child (responsible decision-making). Besides this, differences exist between parents in different stages of parenthood and their self-confidence as a parent. Parents feel most insecure during their child's preschool puberty and adolescence periods. To strengthen parents, more attention must be given to what they indicate to require in terms of life skills, when they are feeling vulnerable and in which areas they would like to develop themselves. Then not only will a connection be made to the parents' needs, a contribution to the well-being of families will be made as well.
More

Less

Abstract

School denomination, family and school composition, and educational achievement: Are there differences between religious and non-religious schools?

Despite an ever increasing process of secularization in Dutch society, the share of religious schools in the Netherlands has remained remarkably stable over the last fifty years. One explanation for this persistent attraction among parents is the sector's good reputation regarding educational quality and achievement. This study tests whether this assumption corresponds with empirical reality. The data analyzed come from the second measurement round of the COOL5-18 cohort study conducted in 2011. A total of 19 cognitive and non-cognitive outcome measures were available from 27457 students in grades 2, 5 and 8 of 386 primary schools. The analyses compare the outcomes of public (i.e. neutral) schools with those of three types of religious schools, namely Protestant, Catholic, and Islamic schools. The results show that after controlling for differences between students in terms of social and ethnic background, and schools in terms of share of low educated and immigrant parents, no differences between public and religious schools remain. Meanwhile, Islamic schools appear to have a special potential regarding the elimination of their educational disadvantage.