Volume 58, Issue 2, 2020
Internationale Neerlandistiek

- Volume 58, Issue 2, 2020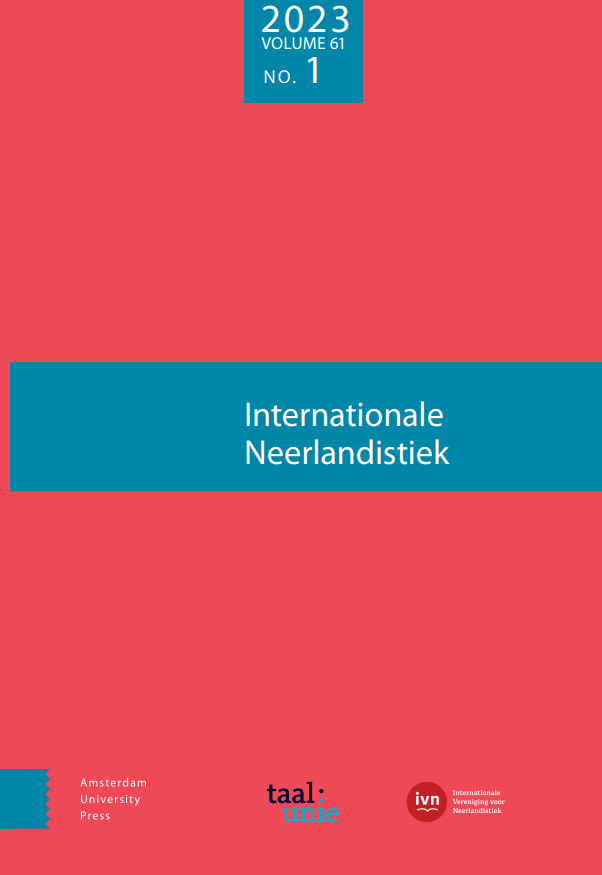 Language: English
More

Less

Abstract

This article focuses on the heterolingual aspects of Henk Van Woerden's so-called South-African trilogy: Moenie kyk nie (1993), Tikoes (1996) and Een mond vol glas (1998). How 'other' is the otherness of the different languages staged by his heterolingual literary discourse? And to what extent can this aesthetic category also provide new insights on literature and its ethical power? My contention is that Van Woerden's novels contribute to a conception of linguistic communication that does not fit in a (romantic) nationalist paradigm, and therefrom – in the South African context but also in multicultural Netherlands and Flanders today – his narratives can provide new insights on other(ness), its literary representation and its historization.
More

Less

Abstract

In the history of Curaçao, the 30th of May 1969 plays an important role. On this day, black workers of the Dutch company Shell decided to strike against unfair wages and racial inequalities that dominated the company. The day ended in a tragedy: two people got killed by police bullets, parts of the capital Willemstad burned down in flames and the Dutch military was called into action. Since then, this day has functioned as a starting point for political debates on Dutch colonialism and as a catalysator for movements of black awareness on Curaçao. This article shows that the Dutch cultural memory of the 30th of May 1969 has been 'compartmentalized' and is therefore an 'emerging memory'. It argues that the date seems forgotten in Dutch cultural memory, but has in fact reappeared in fragmented form through literature. An analysis of Dutch literary remembrances of the 30th of May 1969 shows that the Dutch cultural memory of Curaçao conflicts with a national self-image. Therefore, the colonial past of Curaçao is still not considered as a part of national history.
More

Less

Abstract

The name of Hungarian animation film maker George Pal (1908-1980) is almost unknown, both in his home country Hungary and in the Netherlands. His 110th birthday anniversary passed without any commemoration in spite of the fact that he was a key figure in the Dutch animation film history. In this article I would like to demonstrate why we should see Pal as the founder of the Dutch industrial animation production and which role he has in the research on the cultural relations between the Netherlands and Hungary in the period before the World War II. His influence on the Dutch animation film industry has been hardly analyzed until now. On the base of source research, which adds to the incomplete publications, I would like to prove why the invitation of Pal to the Netherlands in July 1934 had a fundamental influence on the Dutch animation production. Later on, this research will be the beginning of a thorough study of the importance and the network of George Pal in the Netherlands.