Volume 135, Issue 1, 2019
Tijdschrift voor Nederlandse Taal- en Letterkunde

- Volume 135, Issue 1, 2019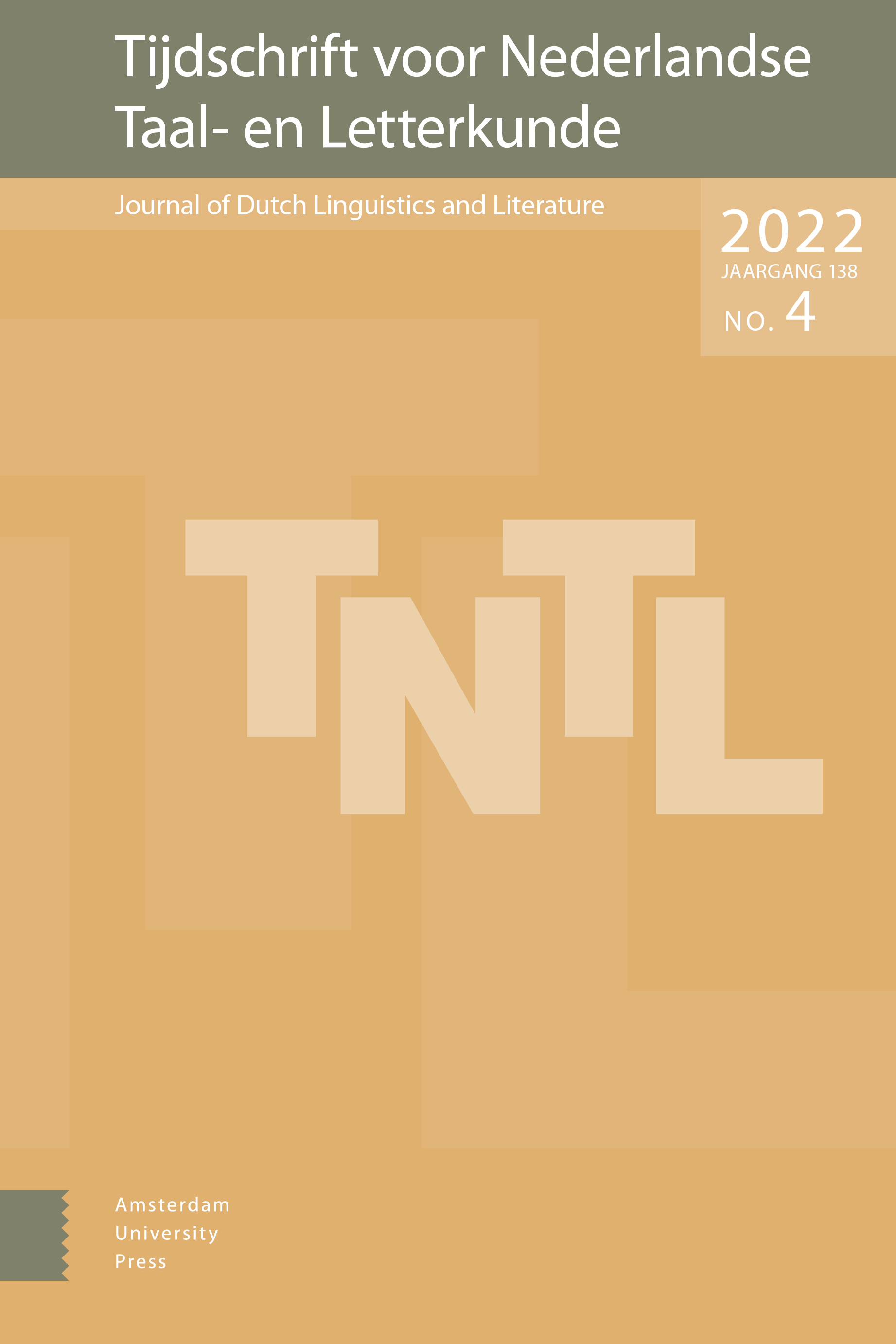 Volume 135, Issue 1, 2019
Language: Dutch
More

Less

Abstract

Naming conflicts is a feature of late medieval politics that has not received enough attention. Names and words referring to revolts and social upheaval were certainly not chosen arbitrarily. They were coloured by the opinion and beliefs of the people participating in the rebellion or the authorities suppressing it. This article focuses on one specific example of such 'event names', namely Moerlemaye. It refers both to the revolt which took place in Bruges in 1280 as well as to other, more general forms of urban conflict. The historical and indepth etymological analysis of this term demonstrates that it was used to denote the speech acts and the murmur rebels used in mobilising for action. Ultimately, the term must go back to Romance *murmurata (supplanting Latin murmuratio), which is attested by Middle High German murmelât(e), even though the derivational ending Flemish -ay(e) poses some problems. Therefore it refers to the murmur and rumour taking place during such an uproar. As a result, this article shows that Moerlemaye made part of a general pattern of naming conflicts in late medieval Europe because also elsewhere the noise made by rebels during the tumult has given its name to political conflicts.
More

Less

Abstract

This article investigates the 'horror of vision' in regard to staged violence in Dutch theatre plays between c. 1635 and 1665. Three plays in particular are analysed in which the violent act of blinding plays an important role. The theatre serves as a mirror for the onlookers who, through looking at characters that look at violence, learn to critically reflect on how they view theatrical violence themselves. The gaze that is performed on stage could be violent itself, but the horror of looking can also be related to the sensory and mental violence that the representation of extreme violence exerts on the onlooker. The discussed plays often refer to the pain of looking at the pain of others, whereas the viewing pleasure of audiences that would long for horror, is condemned, in contrast to blindness as the true way of (inward) vision.
More

Less

Abstract

Male-authored books are generally rated higher than books written by women; witness, for instance, the 2017 list of 'Best Books' in de Volkskrant, where out of 51 books, only 8 were authored by women. In order to examine whether male-authored texts are actually different from female-authored texts, this article examines whether readers can derive the author's gender from two paragraphs of anonymous text, whether a computer programme can derive the author's gender from a corpus of texts, and whether a gendered author's name has any effect on the evaluation of the text's literary quality by non-professional readers. Results show that readers are able to derive the author's gender from a small fragment of text. This is in contrast with computerized research, which shows mixed results across corpora. Finally, the name of the author does not seem to have an effect on the evaluation of the literary quality.