Volume 28, Issue 3, 2012
Tijdschrift voor Arbeidsvraagstukken

- Volume 28, Issue 3, 2012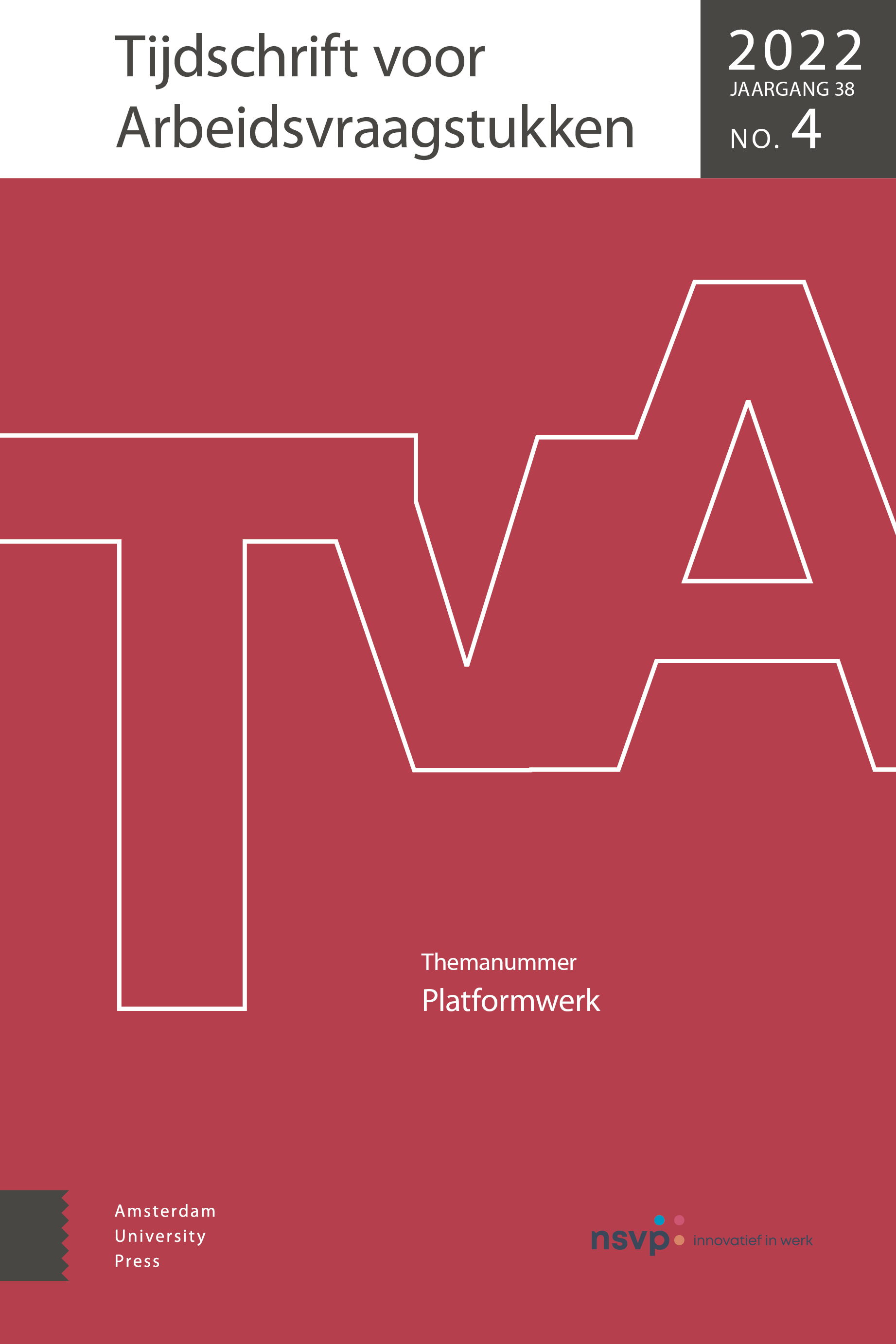 Language: Dutch
More

Less

Work in public and private sectors compared

Work in public and private sectors compared

During the past years, Dutch media made mention of work problems and social unrest in the public sectors. However, research did not focus very strongly on the quality of work in these sectors. Therefore the aim of this article is to describe working conditions and terms of employment in the public sectors in comparison with the private sectors in the Netherlands. The data used were gathered by TNO and Statistics Netherlands in 2010 with the annual Netherlands Working Conditions Survey. The 2010-sample contained 23.000 workers, representative for the Dutch work force.The analyses – centered on 10 public and 10 private sectors – show clearly that mental-emotional strain is higher in the public sectors than in private sectors. On the other hand, physical strain, dangerous work and irregular working hours, are encountered more frequently in the private sectors. In the public sectors employees work more with permanent contracts and in shorter working weeks. Work uncertainty is seen above average in the financial and commercial services and in the transportation sector, but also in government departments, the judiciary and the police. Feelings of burn out are found most often in the three educational sectors. Pay satisfaction is highest among workers in the financial services, higher education and government departments, and lowest in the police and the hotel and catering industry. On average overall work satisfaction is highest in the public sectors.In addition, the analyses show that the 10 public sectors cannot be seen as one whole; the same is true for the 10 private sectors. As far as the quality of work is concerned, government departments, local governments, provinces and higher education resemble commercial and financial services. But primary and secondary education, health care and the police differ significantly from the other public sectors.
More

Less

In 2011 waren 1,4 miljoen personen werkzaam in de zorgsector. In vergelijking met 1970 is de werkgelegenheid in de zorg met 1 miljoen personen toegenomen. Eén op de zes werkzame personen in Nederland heeft nu een baan in de zorg. Bijna 90% van de totale werkgelegenheidsgroei in de laatste tien jaar is toe te schrijven aan de zorg. Hierdoor is de zorg qua aantal werknemers vorig jaar de grootste bedrijfstak in Nederland geworden.Deze uitkomsten zijn afkomstig uit de Arbeidsrekeningen van het Centraal Bureau voor de Statistiek (CBS). Dit is een van de werkgelegenheidsstatistieken die het CBS publiceert. In dit artikel wordt een overzicht gegeven van de werkgelegenheidsstatistieken van het CBS. Naast de Arbeidsrekeningen besteden we aandacht aan de Enquête Beroepsbevolking, de Statistiek Werkgelegenheid en Lonen, het Sociaal Statistisch Bestand en de Vacature-enquête. Statistieken die alleen gegevens over een deel van de zorg publiceren, zoals de Statistiek Zorginstellingen, zijn buiten beschouwing gelaten. Bij alle statistieken gaat het alleen om betaald werk; vrijwilligerswerk en mantelzorg blijven buiten beschouwing. De zorgsector betreft in dit artikel de bedrijfstak gezondheids- en welzijnszorg.Het CBS beschikt over veel cijfers, die niet altijd zomaar met elkaar vergeleken kunnen worden, omdat ze afkomstig zijn uit verschillende bronnen. Bij de verschillende werkgelegenheidscijfers zijn daarbij de volgende vragen van belang:
More

Less

The labor market of the Dutch health sector as patient: diagnosis and some advices for treatment

The labor market of the Dutch health sector as patient: diagnosis and some advices for treatment

In this article we discuss the labor market and job structure of the health care in the Netherlands. The health care market is under cost and capacity pressure which calls for a fundamental change of the job and training system. A meta-analysis based on two leading trend reports shows that there is a watershed between the labor market for physicians and non-physicians. The labor market for doctors is centrally planned, while for the much larger group of nurses the labor market is not governed. Another observation is that bottlenecks are mainly approached by increasing the capacity, less by innovations in the educational and occupational structure. Following this analysis, this article advocates for a comprehensive labor market policy that takes into account different segments of care, that require different skills mixes and competence bundles. We also argue that segmentation on the regional level is required to achieve a demand-based health labor market policy.
More

Less

Professional pride and regulatory pressure in the public sector

Professional pride and regulatory pressure in the public sector

An important point of attention of the Dutch government is to reduce the regulatory pressure on public sector employees and to enhance their professionalism. The assumption is that the enhancement of professional pride and the reduction of regulatory pressure will lead to more motivated and better performing employees and thus to better public service delivery. The hypothesized antecedents and consequences of professional pride and regulatory pressure were analyzed using structural equation modeling. The results show that professional pride is positively related to organizational performance. Contrary, regulatory pressure is negatively related to organizational performance. In this study, the degree of professional pride appears to be in general much higher than the degree of regulatory pressure experienced by public sector employees. However, this study also shows that there are important sectoral differences with respect to the professional pride and regulatory pressure experienced. Therefore, a sectoral approach seems to be important.
More

Less

Met deze column hoop ik u niet alleen een mooi vergezicht voor te schotelen voor de Nederlandse arbeidsmarkt als geheel, maar ook inzicht te geven in de binnen handbereik liggende mooie start van de realisatie van dit vergezicht in een omvangrijke sector met de nodige invloed: de rijksoverheid. In het recente verleden heb ik in een blog de werkgever in deze sector wel eens beschuldigd van bipolariteit, waar een deel van de werkgeversdelegatie niet onverdeeld gelukkig mee was. Dit gevoel kwam, geloof ik, vooral voort uit het feit dat zij zich persoonlijk aangesproken voelden, terwijl ik nadrukkelijk doelde op die ongrijpbare entiteit die soms door een topambtenaar, soms door een minister en soms zelfs door een technisch systeem wordt belichaamd. De diagnose van bipolariteit kwam vooral voort uit de (rijks)overheidsspecifieke situatie van een werkgever met één been in de organisatie en één been in de politiek. Na mijn recente ervaringen rond de pogingen om een nieuwe sociaal beleid voor de rijksoverheid af te spreken, vrees ik dat ik mijn diagnose nog niet kan aanpassen.Dit gezegd hebbende volgt hieronder een pleidooi voor de meerwaarde van van-werk-naar-werk-begeleiding, voor werknemer en werkgever, en waarom dit een arbeidsmarkt-breed gehanteerd model zou moeten worden. Helaas vooralsnog met de toevoeging: zo snel mogelijk te beginnen in de Rijkssector.Werk is, zoals de doelgroep van dit tijdschrift waarschijnlijk zal onderschrijven, meer dan een inkomen alleen. Het is een belangrijke bron van eigenwaarde en, natuurlijk ook economische, zelfstandigheid voor het individu. Daarbij levert een vaste baan ook een stabiele sociale context voor het individu, om al dan niet bewust als basis of terugvaloptie te dienen voor zijn of haar plaats in de samenleving. Zeker in de steeds verder individualiserende en haast volledig ontzuilde Nederlandse samenleving is de werkomgeving op dit gebied een van de laatste vaste waarden.De invloed hierop van het in opmars zijnde plaats en tijd onafhankelijke werken is in dit licht overigens een onderzoek op zich waard.In de rijksoverheid is de afgelopen maanden uitgebreid gesproken en uiteindelijk onderhandeld over een nieuw sociaal beleid om de voortdurende krimp en verhuizingen bij deze werkgever in voor de werknemer zo goed mogelijke banen te leiden. Dit heeft geleid tot een nieuw beleid dat het hele oude hoofdstuk over reorganisaties in de rechtspositieregeling voor rijksambtenaren (het ARAR) moet vervangen. In de afspraken wordt een sluitende aanpak voor begeleiding van werk naar werk gegarandeerd. Om dit te bereiken is het plaatsingsbereik voor rijksambtenaren vergroot van de huidige eigen rijksoverheid naar alle werkgevers die bij het ABP zijn aangesloten. Dit weliswaar ruimere maar toch nog niet volledige zoekgebied is zo gekozen om de balans tussen 'flexibel' en 'veilig' voor de medewerker te bewaren, door zekerheid op het gebied van pensioenrechten te behouden.Voor een bredere uitrol van het beleid van van-werk-naar-werk-begeleiding in een veilige maar activerende omgeving (de kern van mijn pleidooi) zal in de Nederlandse arbeidsmarktsetting een discussie moeten worden gevoerd over betere mogelijkheden voor het meenemen van pensioenaanspraken, of de mogelijkheid om bij een pensioenfonds te blijven waar je het grootste deel van je aanspraken hebt opgebouwd, ook als je niet meer werkt bij een werkgever die onder dat fonds valt.Naast de eigen motivatie om aan het werk te blijven is het activerende element voor de medewerker gelegen in de afspraak dat onwil om mee te werken aan van-werk-naar-werk-begeleiding leidt tot ontslag. Hiertegenover staat dat de balans met veiligheid is behouden door reorganisatieontslag als ontslaggrond, in het gesloten ontslagsysteem van het ARAR, te laten vervallen. Dit is tevens de basis voor de garantie op een sluitende aanpak. Tot slot wordt in de aanpak van de feitelijke van-werk-naar-werk-begeleiding bewust zo veel mogelijk de regie bij de betrokken medewerker gelegd, onder procesbegeleiding van een onafhankelijke professional. En er is uiteindelijk voor gekozen om van het 'last in first out'-systeem van aanwijzen van boventalligen over te stappen op het afspiegelingssysteem van het UWV. Dit laatste is, gezien de leeftijdsopbouw van de rijksoverheid, vooral een psychologische verandering.In mijn ogen, en gaandeweg de gesprekken ook in de ogen van bijna alle andere betrokkenen, leidt een dergelijke aanpak tot een win-winsituatie voor werkgever en werknemer. De werknemer krijgt bij het, dreigende, verlies van zijn werk de kans om in een veilige omgeving na te denken over en te werken aan een vervolg van zijn carrière. Wat waarschijnlijk voor meer structurele en voor de medewerker in inhoudelijk opzicht bevredigender oplossingen zal zorgen. En, niet minder belangrijk, de binnen mobiliteitsorganisaties actief in de Rijkssector als rouwverwerking bestempelde periode van inactiviteit bij medewerkers die worden geconfronteerd met het verlies van hun baan, zal waarschijnlijk aanzienlijk worden verkort.Voor de werkgever zit de winst op korte termijn in het zo kort mogelijk houden van de periode van inactiviteit van een medewerker, waarbij de rijksoverheid als eigen risicodrager zelf voor de kosten moet opdraaien. Een mooie businesscase, volgens het jargon van de werkgever. Op de langere termijn zal het er volgens mij ook toe leiden dat waardevolle arbeidskrachten behouden blijven voor de (Rijks)overheid in een krimpende arbeidsmarkt.Het hierboven beschreven model (waarbij ik ook graag verwijs naar het door CNV Vakmensen geopperde Maaslandmodel) zou toch ook toe te passen moeten zijn op de hele Nederlandse arbeidsmarkt. De trend is nu al om de kosten van inactiviteit van een ontslagen werknemer te verleggen van de overheid naar de voormalig werkgever, maar helaas worden de kosten daarbij ook bij de werknemer gelegd: werkgever en werknemer worden binnen het hele huidige systeem helaas niet gestimuleerd om te investeren in een solide werk-naar-werk-omgeving.Dat moet veranderen, zodat de echte waarde van werk voorop komt te staan en niet alleen berekend wordt vanuit een kil financieel-economisch perspectief.
More

Less

Policy alienation in the health sector. Professional experiences of midwifes and sonographers

Policy alienation in the health sector. Professional experiences of midwifes and sonographers

A number of developments – such as increased performance measurement and new governmental policies – put pressure on employees working in the public sector. In this article, we examine pressures healthcare professionals experience during the implementation of the 20-weeks ultrasound policy (structural ultrasound policy). We use an interdisciplinary approach. From public administration literature, we draw on the policy alienation concept, which consists of five dimensions: strategic powerlessness, tactical powerlessness, operational powerlessness, societal meaninglessness and client meaninglessness. These are considered as factors that influence the behavioural support for a policy, based on the concept of 'behavioural support for a change', drawn from the change management literature. We test this model using survey data collected among 780 Dutch midwives implementing the 20-week ultrasound policy. Both meaninglessness dimensions proved highly significant, whereas strategic and tactic al powerlessness were found not significant. We conclude that clarifying the value of the policy is important in getting professionals to willing implement a policy, whereas their participation on the strategic or tactical levels seems less of a motivational factor. These insights help in understanding why public professionals embrace or resist the implementation of particular policies.
More

Less

Public services under pressure. Loyalty conflicts of educational managers

Public services under pressure. Loyalty conflicts of educational managers

Work in public professional services, such as health care and education, has become pressurized. Managing such work has especially become contested. According to many, professionals are hindered by widespread managerial systems and techniques. Managers are blamed for this. We lack empirical proof, however. Are managers, such as health care or school managers, intentionally hindering professionals with their managerialism? This article presents the outcomes of (PhD) research on the loyalties and loyalty conflicts of school leaders. We show that school leaders are highly loyal to teachers, pupils and parents, and that they make many sacrifices to uphold normative orientations and affective feelings concerning educational processes. But not under all circumstances. Oppositions between professionalism and managerialism do not so much occur between professionals and managers, but inside managers. This has consequences for debates on public professional services, as well for practical reform.
More

Less

Gemeenten maken een stormachtige ontwikkeling door. Onder druk van de bezuinigingen worden organisaties afgeslankt, kerntakendiscussies gevoerd en nieuwe organisatiemodellen ingevoerd. Wat betekent dat voor de vraag naar arbeid in de sector? Welke kwaliteit van arbeid is nog nodig in de toekomst? Hoe kunnen medewerkers zich versterken om 'klaar voor de toekomst' te zijn?Het kan verkeren. Nog in 2010 voorspelde het rapport De Grote Uittocht een tekort van 7 op 10 in het jaar 2020 door vertrek en vergrijzing. Uitkomsten die nu niet meer gehaald worden. De overheidssector kenmerkt zich door overschotten van personeel. De veelgehoorde reactie is dat het slechts tijdelijk is, veroorzaakt door de crisis. Als de economie weer aantrekt, dan ontstaan er weer tekorten.We stellen de vraag of dat klopt. We zien verschillende ontwikkelingen bij gemeenten die zullen leiden tot een andere kwantiteit en kwaliteit van de arbeid. Kort omschreven:
More

Less

Effects of the 'function mix' on the psychological contract in secondary education

Effects of the 'function mix' on the psychological contract in secondary education

The Dutch government tries to increase the attractiveness of the job as a teacher in several ways. One of the methods is so-called the function mix. With this instrument a relatively large group of teachers can be promoted to a higher salary scale. Using psychological contract theory, we aim to explain teacher's attitudes towards this function mix instrument. The analysis shows that especially feelings of procedural and egalitarian justice are an important determinant of this attitude towards this new system. More specifically, our analysis shows that a system by which teachers prove their eligibility themselves for promotion, combined with a fast implementation, has a positive effect on the attitude towards the function mix instrument. The analysis also shows that effects on teacher's attitudes (like commitment and motivation) are – contrary to the expectation – rather limited.