Volume 39, Issue 1, 2019
Pedagogiek

- Volume 39, Issue 1, 2019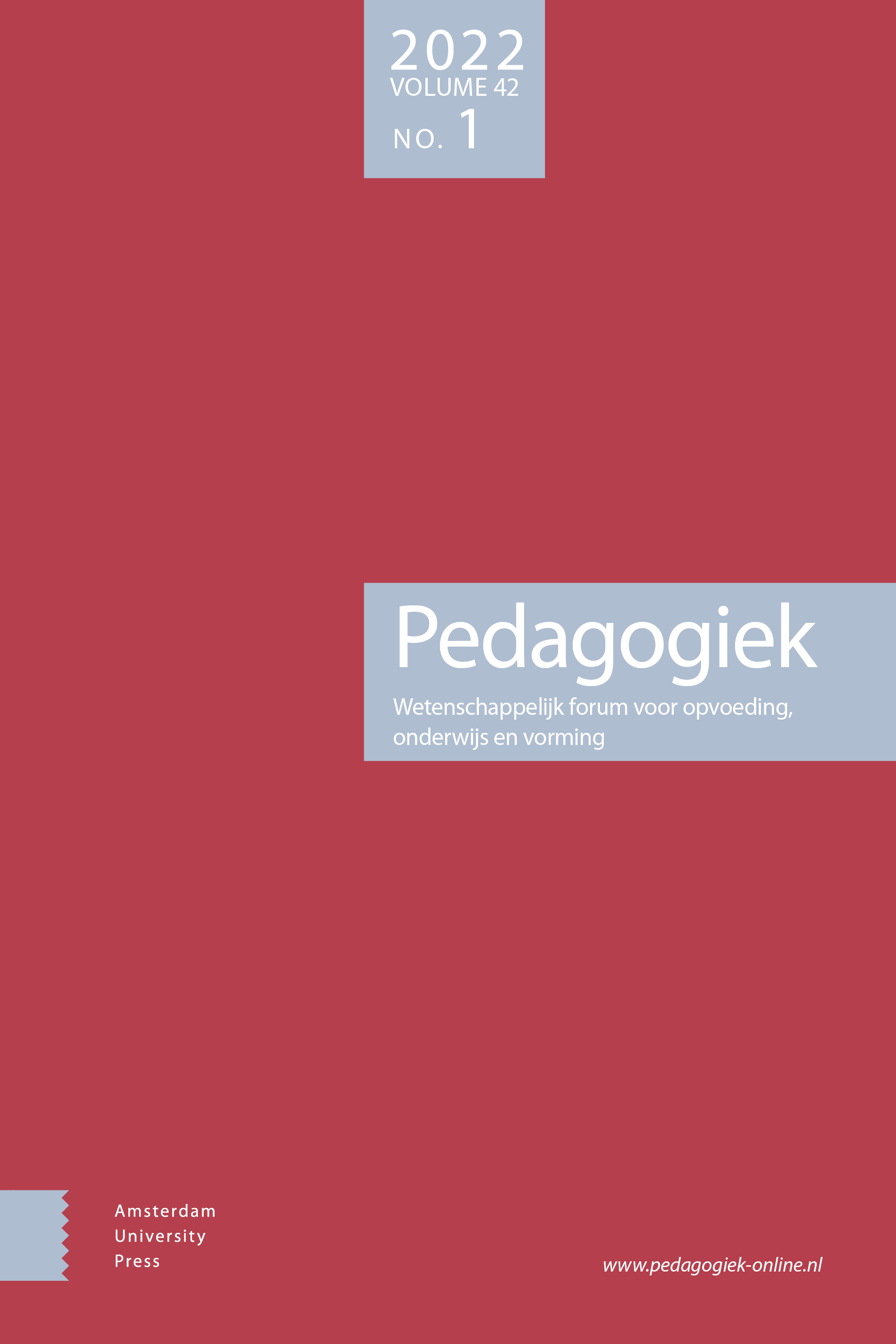 Language: English
More

Less

Abstract

Somewhere over the rainbow: Reality, still a dream, or something between?

The legal and social climate for lesbian, gay, bisexual and transgender (LGBT) individuals varies across countries. The Netherlands, for example, is known worldwide for its liberal and tolerant climate regarding LGBT people; other nations have less tolerant attitudes and some even penalize homosexuality. But even in the Netherlands, a substantial proportion of the population has the opinion that a child needs a mother and a father for healthy psychological development, and a large percentage disapproves of adoption rights and public expressions of intimacy for same-sex couples. As a consequence, the Netherlands could be described as a society that values the tolerance of homosexuality, while also endorsing heteronormative beliefs. It is in this heteronormative society that children and adolescents are confronted with assumptions that their parents should consist of a mother and a father who identify as heterosexual and who view their gender in binary terms (i.e., female or male). It is also a society in which young sexual minority and gender nonconforming youth are growing up. Less is known about how the health and well-being of sexual minority and gender nonconforming parents and the offspring who are born and raised in these families are influenced by the assumptions of heteronormative society as well as what growing up in such a society means for these youth. In mine Chair position within the Department of Child Development and Education of the Faculty of Social and Behavioral Sciences I will concentrate on sexual and gender diversity in families and youth by encompassing research and education on (1) lesbian, gay, and transgender parenthood, and (2) sexual minority and gender nonconforming youth. In this slightly edited version of my inaugural lecture I describe why it is especially important to focus on protective factors and resiliency in lesbian, gay, and transgender families and in sexual minority and gender nonconforming youth.
More

Less

Abstract

Popular, rejected, neglected, controversial, or average: Do young children of different sociometric groups differ in their level of oral communicative competence?

Children's sociometric status refers to their position within the peer group and plays a major role in their future social-cognitive development. It is therefore important to investigate factors that are related to it. Although it has been suggested that one of these factors is children's level of oral communicative competence, little attention has been paid to its potential role. Therefore, the present study investigated sociometric group differences in the level of oral communicative competence in a sample of N = 570 children in early childhood education. Sociometric status was measured using a nomination procedure. Based on peer nominations, children were categorized into five sociometric groups: (1) popular (generally well-liked), (2) rejected (generally disliked), (3) neglected (low visibility and neither liked nor disliked), (4) controversial (high visibility and both liked and disliked), and (5) average (at or about the mean on both likability and visibility). In addition, children's level of oral communicative competence was assessed with the Nijmegen Test for Pragmatics. Results of multi-level analyses revealed significant sociometric group differences: Children who were rejected or neglected by their peers exhibited lower levels of oral communicative competence than average children. Based on these findings, early childhood teachers are encouraged to pay more explicit attention to the promotion of their pupils' oral communicative competence.
More

Less

Abstract

What is upbringing? A conceptual analysis

This paper offers a conceptual analysis of opvoeding by describing how this word is used in ordinary language. It shows that the Dutch word opvoeding has two different meanings and therefore expresses two different concepts. A first meaning clearly overlaps with the meaning of the word 'upbringing', even to such an extent that it is reasonable to assume that these terms express the same concept. It is a rather broad concept, as it covers a comprehensive whole of actions and practices, ranging from early childhood to the attainment of adulthood. The second meaning of opvoeding, however, is very close to the meaning of 'to discipline', in particular if reference is made to adult interventions in the child's life. Used in this way the term expresses a concept that pertains to individual actions and therefore, if compared with the concept of upbringing, is a much more narrow one. In a rather detailed analysis of both concepts their differences and similarities are revealed. It is shown that the disciplining activities that are covered by the second concept are only a relatively modest part of upbringing. Next to disciplining the child, upbringing covers many other types of actions, such as setting a good example to the child, encouraging the child to aspire to particular ideals, or creating a supposedly beneficial environment for the child.
More

Less

Abstract

Growing up in complex reality: the unique contribution of pedagogical science in the Netherlands

The inception of the discipline of pedagogical science in the Netherlands was exactly one hundred years ago in 2018. After a brief description of the history of pedagogy, several domains of the current field of pedagogy, in particular child and family studies and clinical child and family studies are highlighted. Next, the interrelations between pedagogy, psychology and psychiatry using the bio-psycho-social model and the socio-ecological model are described. Pedagogical science is an empirically-normative, performance-centered, and integrative science that unites the broad spectrum of behavioural sciences. With this unique combination, pedagogical science helps to answer scientific, clinical, and societal questions to help children reach their full potential.
More

Less

Abstract

Human flourishing as an overarching aim of education: a fragile endeavor

Human flourishing can be characterized as living a successful, happy and morally good life. Several philosophers of education have argued that flourishing should be seen as an overarching, ideal aim of education, and that this has or should have several implications for both schools and parents. In this article, which is a summary of my dissertation, I reflect on these theories. Is the fact that these theories tend to place a central emphasis on ideals problematic? And what does aiming for flourishing exactly imply for parents and parenting? I argue that in parenting for flourishing, we deal with a double uncertainty. Parental striving for flourishing is an uncertain endeavor, firstly, because flourishing, being in part dependent on 'luck', is inherently fragile; and secondly, because childrearing can be considered to be an 'existential risk' that makes parents vulnerable in yet another way. I conclude that in theories on education for flourishing, this double uncertainty has to be taken into account properly, by which I mean that it has to reflect the practices of parenting and the uncertainty of life in general in order to keep in touch with the non-ideal, real world.